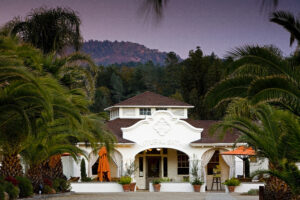 Driving onto the property at Indian Springs is like rolling onto a movie set from the 1950's. The adorable property is lined with palm trees and in the center of the long entry is filled with colorful Adirondack chairs and cruiser bikes for the guests. On the lawn of the entry are a plethora of games including ping-pong, shuffleboard and croquet. It is like stepping back into time, and the tranquility of the resort is felt the second you place your feet on the fertile ground.
The property has been around since 1861 when Leland Stanford bought it to build Stanford University. But the 17 acres was home to an active geyser, so a spa was built instead. And lucky it was, because this is a pretty special place just 2 hours north of San Francisco.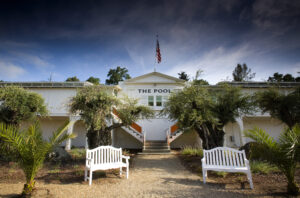 For the solo traveler, you can drive up for the day, get a spa treatment in their world-famous spa where you can treat yourself to a bevy of delights including massages and facials—but I suggest their classic mud bath. It is a pretty epic experience! When you get a spa treatment, you also have access to their incredible Olympic size mineral pool. The water is a wonderful creamy blue and you can feel its healing powers the moment you enter its warm waters.
My suggestion is that you stay the night, because then you get to swim in the pool until midnight. And, that is one of the most amazing solo experiences ever! Since the pool is filled with so many amazing minerals, it is easy to float. They offer fun things you can float on as well.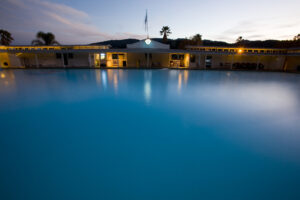 The geyser is only a few yards from the pool and you can listen to the booming and steaming of the geyser while looking for shooting stars, floating the night away.
Indian Springs offers quite a few different types of accommodations; from modern single rooms to cute little vintage cottages. My favorite is the cottages because they are close to everything absolutely adorable.
The resort also has a restaurant, Sam's Social Club, where you can order room service or dine there. What's also great is that there is a private Adults Only pool where you can order wine and snacks.
If you want to retreat for a day or overnight, Indian Springs in Calistoga is a must. It would also be wonderful for a girls' weekend, since some of the cottages can sleep up to 6 people!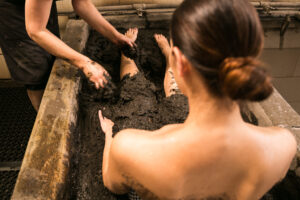 1712 Lincoln Avenue
Calistoga, California 94515, USA
Phone: (707) 942-4913
Fax: (707) 942-4919
reservations@indianspringscalistoga.com