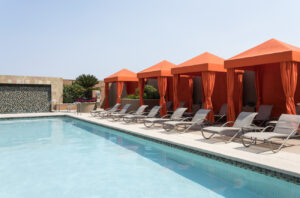 Yes, you can hide away and experience luxury at its finest in one of the most competitive places in the world. It sound quite counterintuitive, since Silicon Valley is known for being the high-powered land of titans of tech and the home of Stanford University, which is anything but chill. But on the eastern tip of Palo Alto, rises a glass edifice with the fabulous moniker Four Seasons on its doors. There, you can disappear into a world of comfort and bliss—and the best part is, it's less than 20 minutes from San Francisco International airport and around 45 minutes from San Francisco.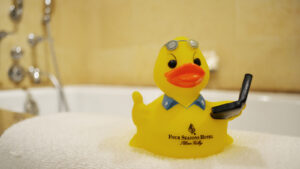 Besides the impeccable service and the ducky holding a laptop computer in your bathroom, the property has an epic spa and rooftop pool. I do have to admit I found it surprising that a hotel on the edge of a freeway could be so remarkably relaxing and quiet. I'm sure that the peacefulness has something to do with the beautiful mosaic waterfall that cascades into the beautiful hot tub. Lining the swimming pool are private cabañas where you can get poolside service—everything from exotic cocktails to delicious spa cuisine. The menu includes such delights as Tuna Tiradito, Chilled Fresh Pepper Gazpacho, and Snickers Sundae.
This hidden revitalizing retreat has a world-class spa that offers everything from Himalayan warm stone massage, to oxygen body peel, and quartz crystal body ritual to pure energy manicure or pedicure.
The spa is a perfect destination if you only have a few hours in Silicon Valley. Say, you flew in for a huge pitch at 8 am; you can head to the Four Season, get a spa treatment and relax until your plane departs that evening. What a perfect way to end a day of power networking and presenting! Chip a nail? Then get a startup manicure!
Of course, if you have more time—like the whole night, don't deny yourself dinner at Quattro. My favorite dishes there include: short-rib tortellini with huckleberries, black truffle butter, fiore sardo pecorino cheese; Maine lobster with baby artichokes, local mushrooms, pearl onions, black garlic puree, soubise. Don't leave unless you order the scallops! The executive Sous Chef Martin Morelli is a master and I must admit, it was one of the best meals I have ever eaten. Do ask to have your meals pair with wines—it is the most divine experience ever!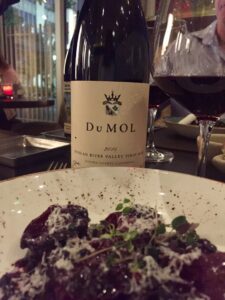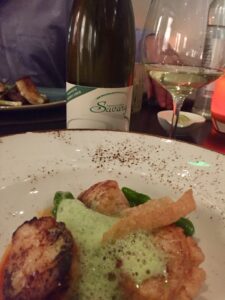 My room was so swanky and the bed so cozy that it was hard to leave in the morning. If you don't have to leave first thing, ask for a late checkout, order room service, and spend a few hours by the pool (or in the spa) before you head back to reality.
I absolutely loved my short escape to the Four Seasons that I will be offering a free writing workshop at the [ESC] Lounge in the next few months. If you are interested in attending, please private message me on twitter @flysolo.