Wednesday, June 16th, 2010
Summer is upon us, and with sun comes all new fashion and beauty finds! We explored Shecky's Girls Night Out in San Francisco for fabulous products to fit a Diva's lifestyle. BellaSole Shoes Shoes If you're anything like me, you avoid heels on nights out because the dance floor is calling your name. Luckily,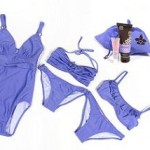 Monday, May 18th, 2009
Vanilla is my favorite scent to wear. Lavender is my favorite scent to relax. Lavanila is my new favorite to hit the beach! With summer right around the corner, the Summer Essentials Kit by Lisa Curran for...