Get ready for a flashback complete with big hair, leather, spandex, fishnets and screeching guitars when the smash hit Rock of Ages rolls into town!
The electrifying show is rowdy and raunchy.
This is the ultimate rock-love celebration featuring the great rock anthems of iconic bands like Styx, REO Speedwagon, Foreigner, Whitesnake and many more.
The story is set in a legendary L.A. Strip rock club where a small town girl meets a big-city dreamer.
The rest is Rock & Roll history.
"Don't Stop Believin" is the mantra that gives the performance a powerful edge and a purposeful energy keeping the audience engaged and inspired throughout the 2 hour and 20 minute show.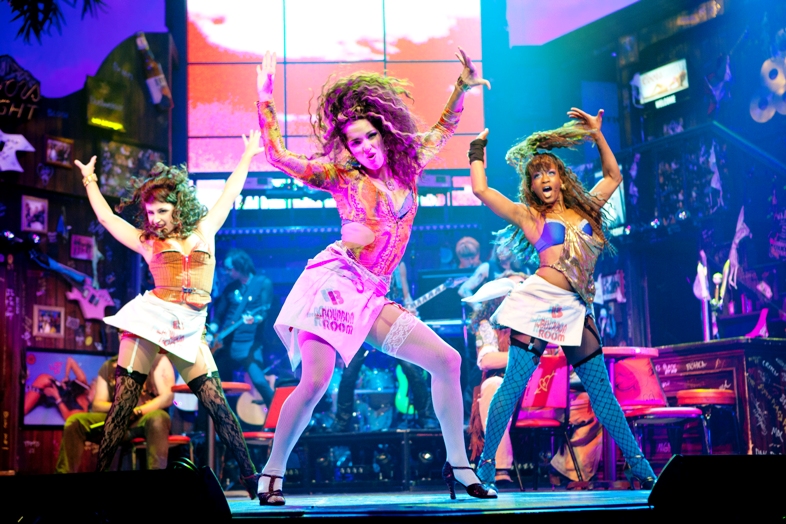 Embrace your inner MTV alter ego and let the spirit of the 80's move you.
Show Dates: April 2-7, 2013
Location: Times Union Performing Arts Center; Jacksonville, FL
More Info and Tickets: www.artistseriesjax.org
Or, call: 904-442-2929
Tour Dates- Coming to a City Near You:
Rock of Ages Nashville/Tennessee Performing Arts Center: April 19th & 20th
Rock of Ages Birmingham/ BJCC Concert Hall; May 3-5th
Rock of Ages Memphis/ Orpheum Theatre; May 10-12th
Rock of Ages St Louis/ Fabulous Fox Theatre; May 24-26th
Rock of Ages Portland/ Keller Auditorium; May 28-June 2nd
 Photos courtesy of Scott Suchman.