JANE WITHOUT TARZAN:
A beautiful young British girl dreams of living in the jungle with animals. Being the 1940s, this surely wasn't going to happen. And yet, 26 year old Jane Goodall, lacking any scientific background, and the handicap of being a woman, meets the famed anthropologist Louis Leakey, who sends her to Tanzania on a six month assignment studying chimpanzees. That six months turned into a lifelong career studying primates and advocating for wildlife preservation.
THE STORY BEGINS:
Oscar® and Emmy® nominated director Brett Morgen was hired to tell Goodall's story, using over 100 hours of 50 year old film clips discovered in the National Geographic archives. Morgen originally envisioned a film sans dialogue, in the style of "Koyaanisqatsi", a 1982 experimental film scored by Philip Glass. And so he hired Philip Glass. Morgen convinced a reluctant Goodall to sit for an interview, which she agreed upon, only after viewing his film. Her words became the film's narration. We see Goodall's early studies of the chimpanzees of Gombe, and her relationship with cameraman and soon to be husband, Danish filmmaker Hugo Arndt Rudolf Baron van Lawick, whose exclusive footage was used extensively in the documentary. Hugo, by the way, was equally young and untrained, on his first assignment, which launched his stellar career as a wildlife photographer in the Serengeti.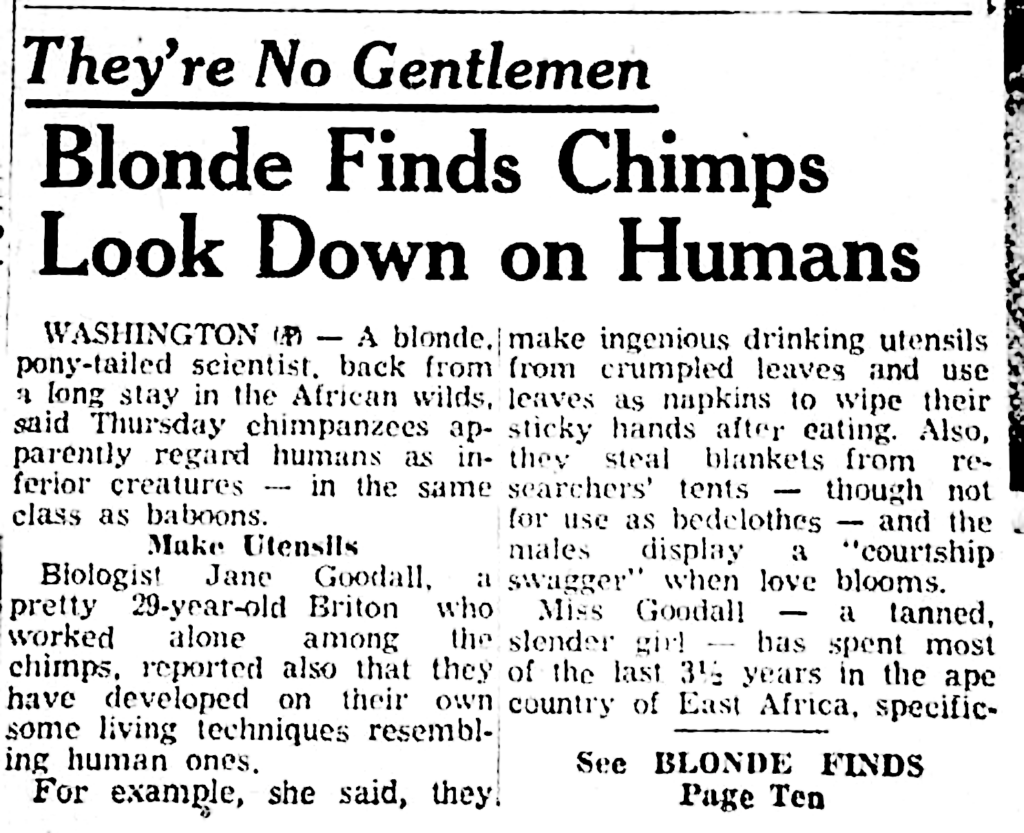 FEMINISM BEFORE IT WAS A WORD:
We see endlessly patient and curious Jane Goodall gaining the animal's trust, and making headlines with her discovery that chimps were highly intelligent and social creatures, using tools to gather food. "Jane" is an intimate portrait of a woman who defied the odds to become an internationally renowned primatologist and conservationist. A much needed hero for our time.
Read Jane Goodall's best selling book: In The Shadow of Man