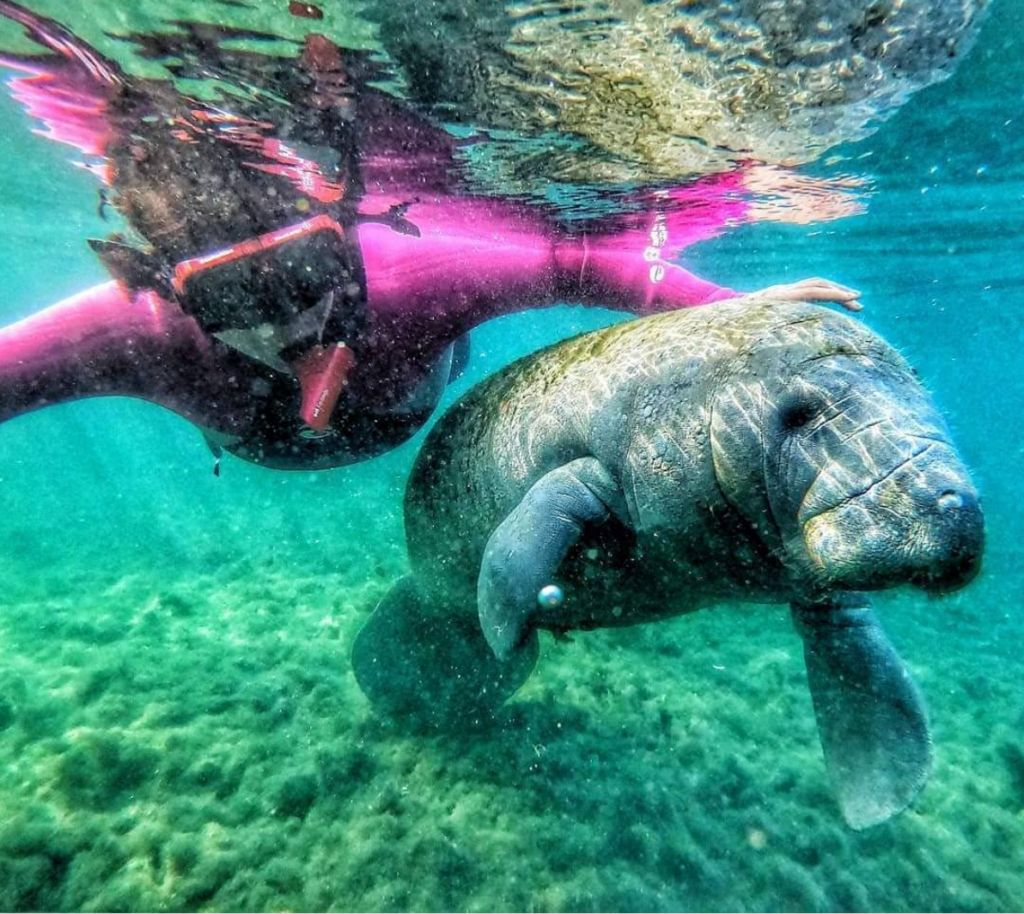 I consider myself a lucky one whenever I connect with Mother Nature and her magical creations.
My visit to Crystal River on Florida's West Coast only heightened my sense of privilege.
Crystal River is a charming Old Florida town of just under 5,000 residents located in Citrus County.
Eco-tourism drives the economy and the Manatee is the area's million-dollar magnet. Crystal River's springs are warm and welcoming with a temp of 72-74 F (23 C) year-round, attracting migrating manatees during the winter season. Recognized as the Manatee Capital of the World, Crystal River is also home to the only manatee-swim program in the U.S.
Just to see the beloved manatee in a serene sanctuary setting is an amazing experience.To swim with these gentle giants can be truly unforgettable.
Tour operators offer early morning underwater dive programs that get you "close and personal" without breaking the law. Touching or disturbing manatees is a serious offense.
Three Sisters Springs, my first stop on my manatee discovery adventure, is an easy access land-based option for all ages. An integral part of Crystal River National Wildlife Refuge with 57 acres of trails and wetlands, Three Sisters Springs is a destination all its own.
Most visitors arrive by a designated city trolley from the welcome center to the main boardwalk entrance.
A walking path winds through a restored Florida wetland, leading to the headwaters of the natural springs. Knowledgeable volunteers are on hand to answer questions and provide information.
Depending on the weather and time of year, visitors can view resting manatees from several platform stations. On any given brisk January day, one may see a hundred or more manatees enjoying the warm spring waters. Spend an hour or an entire day, but be sure to wear polarized sunglasses to cut glare for optimum viewing.
The Florida Spring Eco-system is alive with resident wildlife and native species year-round. You may spot a Loggerhead turtle, an osprey or even an alligator. Bird enthusiasts will delight in the vast number of true snow birds, migratory feathered friends, who make Crystal River their winter home.
Between November 15 – March 31st, Three Sisters Springs and other manatee sanctuaries prohibit boating and limit swimming access to provide the manatees a peaceful and safe environment. Kayaking and swimming is allowed during the late spring and summer months.
Three Sisters Springs Center
123 NW US Highway 19; Crystal River Florida 344
352-586-1170
Open Daily: 8:30-4:30 PM (last ticket sold 4 PM)
Admission Fee for Trolley/Park Access
Fast Facts:
A Manatee, nicknamed Sea Cow, is a marine mammal related to the Elephant
Manatees have very little body fat so are highly sensitive and can be injured from cold stress
Manatees migrate to the springs for warmth when Gulf water temps drop below 68 degrees (generally, November thru March)
Manatees love the abundance of sea grass. Favorite snack: Florida eelgrass aka wild celery
Manatees have poor eyesight; their vision only helps them make sense of the general shapes in the water
Manatees generally swim at slow speeds but can reach 15 mph or more in short bursts
Active manatees take air every 3-4 minutes. Resting or sleeping manatees, can stay under water for up to 20 minutes.
Adult Manatees average 10 feet in length and weigh between 800-1200 pounds
Lifespan: 30 years in the wild.
 Where to Stay & Play:
The Plantation on Crystal River, a family-friendly resort, offers prime access to Florida's Nature Coast.
The 232-acre property is located on the Crystal River just 90 minutes from Orlando or Tampa.
The prevailing philosophy of this popular iconic property – Southern Hospitality with Florida Charm.
Visitors are greeted by the towering columns of the resort's grand Greek Revival-style entrance. But step inside and you will feel a welcoming vibe.
Settle into coastal living at your own pace.
Relax poolside taking in the stunning views, practice your golf swing on the resort's 18-hole championship course, unwind and rejuvenate at the Aveda Spa or head to the Plantation's Adventure Center to book an unforgettable eco-experience.
The Adventure Center features a full-service marina and dive center. Guests can rent kayaks, paddle boards and scuba gear. Manatee Snorkel Tours start at $65 per person for two hours. And, private/charter fishing, scallop and manatee tours can be arranged.
I opted for the daily Scenic Cruise of King's Bay. The narrated one-hour cruise departs from the resort and travels along canals into the bay. Being on the open water allowed me to see the expansive beauty beyond the confines of a park. The bird life was amazing. The highlight: Sighting of manatees swimming in tandem with our little boat. Daily Tour: $15/ Sunset Tour: $20
Resort Highlights:
196 Guest Rooms & 12 Villas
Over 12,000 square feet of flexible Meeting Space
Outdoor Wedding Venue: "The Point" with a picturesque gazebo on the water's edge
Dining with a View: West 82º Bar & Grill serves breakfast lunch and dinner daily. Be sure to check out the hearty Sunday Breakfast Buffet,11:30-2 PM. Carving station and shrimp galore for only $21.95 per person.
Tiki Bar & Golf Clubhouse Grill
Fitness Center, Spa & Outdoor Heated Pool
Volley Ball & Tennis Courts
Golf Course, Driving Range & Instruction Facility
Pet Friendly ($25 fee per night)
Free Parking
Rates: Seasonal; $159+ per night
Best Deals: Sunday-Thursday
Scallop Season kicks off in Summer (July-September).
The Plantation offers a unique underwater scalloping adventure perfect for the entire family.
For more information and special resort packages, call 800-632-6262
Contact the Citrus County Tourism Office for all your vacation planning needs at 800.587.6667 or info@visitcitrus.com
Photos Courtesy of Sheila Gaspers
An active contributor for over a decade, Sheila stays true to her gypsy spirit in every story she writes.
She travels continents and countries in search of an elevated and authentic experience.
Sharing her passion, Sheila introduces us to people and places that ignite conversation, inspire creativity and invite discovery. Storyteller, history buff and self-proclaimed philosopher, Sheila believes change can be a catalyst for exploration beyond self-imposed boundaries. Adventure Awaits!
 " Not all Who Wander Are Lost" 
J. R. R. Tolkien
GIVE
Florida has lost 25% of its manatee population in the last two years—we need to act now.
Donate to Ocean Conservancy today to help protect manatees and the ocean habitats they depend on. Please give today so we can continue this critical work.