RESISTANCE NOW !
Lynn Hershman Leeson takes nothing at face value. Her film, installation, and multimedia work highlight acts of courage against censorship and repression, unknown stories that have little chance of being told, if not for her persistence of vision.
TANIA LIBRE
In the documentary "Tania Libre", Leeson introduces us to Tania Bruguera, a Cuban performance artist. Because her work is critical of the regime, Tania has been harassed, called a traitor, and repeatedly imprisoned.
ART IS REVOLUTIONARY
Leeson devises a plan. Along with Bruguera, they fly to the Michigan office of trauma therapist Dr Frank Ochberg. The camera stays in the room as Tania dissects the emotional fallout from creating art as an act of resistance. There's some heavy stuff about her father, and her post-traumatic stress disorder (PTSD).
THE PERFORMANCE
The piece that got Bruguera jailed is re-created for us, complete with narration by Tilda Swinton.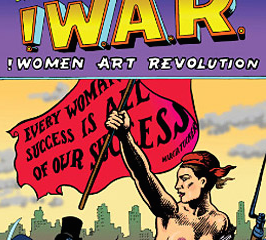 W.A.R.
Women, Art, Revolution, another documentary by Leeson, re-writes the art history books, uncovering 40 years of cultural suppression. Tania Bruguera will not suffer the same fate.
Speaking of artistic vision, at SFFILM, Leeson received the "Golden Gate Persistence of Vision Award"
MORE INFO:
Lynn Hershman Leeson
ADDITIONAL SCREENINGS:
SF Docfest