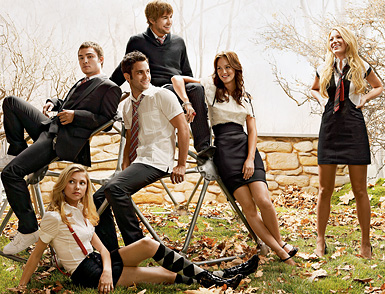 Suffering from a case of acute Gossip-Girl-on-Hiatus blues? I know I am. Picking up where Sex in the City left off, Gossip Girl is without a doubt the show to watch for fashionistas and trendsetters. Here at Tango Diva HQ we're already fans of On Location Tours, that's why we I was soooo excited to learn about their new Gossip Girl bus tour.
Live a day in the life of Serena, Blair, Chuck, Dan, Vanessa, and Nate on this three hour guided bus tour that goes to more than 30 locations that were used in filming the hit TV series.  Find out behind the scenes information and little known facts about the cast and crew of Gossip Girl from local New York City actors and actresses who are the guides on this exciting tour.
Visit the hotel, home to the Bass and Van der Woodsen families, where so many of the scenes from Gossip Girl take place.
Be "spotted" by that most ubiquitous blogger at the Constance Billard School for Girls/St. Jude School for Boys.
See the lavish Fifth Avenue building that Blair Waldorf calls home.
Shop at Henri Bendel where Blair and Serena shop.
Sample a treat from the Humphrey's favorite bakery.
Pass by the movie theater where Serena stood Dan up for their date.
The tour costs $38 per person and runs on Fridays and Sundays at noon. Tours depart from a convenient midtown Manhattan location. Private tours are available at any time.  Advance purchase is required, as tours usually sell out. Tickets can be purchased online at www.screentours.com or by calling Zerve at (212) 209-3370.
On Location Tours, Inc. is the world leader in TV and Movie tours.  Based in New York City, On Location Tours also operates tours of Sex and the City Hotspots, Sopranos Sites, New York TV and Movie Sites, Washington DC TV and Movie Sites, and Central Park Movie Sites.