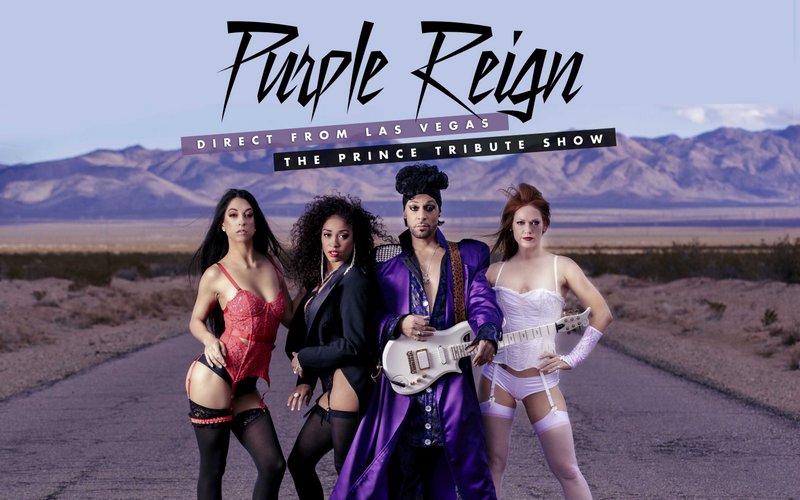 A raging powerhouse spectacular Las Vegas Tribute Show, Purple Reign, heats up the East Coast this summer.
An award-winning phenomenal performance you will not want to miss!
The tour kicks off in Jacksonville, Florida in early May and travels throughout the Sunshine State before heading to the Northeast.
Purple Reign has wowed audiences for over 20 years on the Strip with rave reviews.
Crowned the "Best Tribute Act" by the Las Vegas Review Journal, the electric and energized tribute is a pageantry of Paisley Park's perfect music memories.
Fast Fact: In 2008, Purple Reign became the first ever tribute act to appear as a musical guest on the "Late Show with David Letterman"
The talented cast, with Jason Tenner as Prince, recreates the magic, visually and vocally, that propelled Prince to an international sensation.
Jacksonville, Florida Show Date: May 3, 2019
(ONE NIGHT ONLY)
Location: Times-Union Center in Jacksonville
For more information and tickets, visit the FSCJ Artist Series Website.
Select U.S. East Coast 2019 Tour Dates:
Van Wezel Performing Arts Center; Sarasota, FL – May 4
BB Mann Hall; Ft. Myers, FL- May 5
Bergen Performing Arts Center; Englewood, NJ- May 17
Shurbert Theatre; New Haven, CT- May 23
Visit the official Purple Reign tour website for all show dates and venues.
Can't wait for your PRINCE fix?
No worries, you can schedule a tour of Paisley Park in Minnesota.
"Four Ways to Tour – from General Admission to the Ultimate VIP Experience"
Or, why not plan an extended visit during Celebration 2019, scheduled for April 25-28 at Prince's historic home and Paisley Park recording sanctuary outside Minneapolis.
Celebration 2019 VIP Pass: $1049*
Five hours of event programming each day
Access to exclusive concert events, panel discussions, and a guided tour of Paisley Park
Ticket to Prince: In Concert on the Big Screen(premiere seating)
Daily meal pass
On-site parking
Access to purchase exclusive VIP Celebration 2019 merchandise
Exclusive VIP Dance After Party at The Amory
*Plus $45 service and facility fee per VIP ticket 
For preferred partner hotels , schedule and more Celebration 2019 Access Pass information, visit the Paisley Park website.
Photos courtesy of Purple Reign