Sleek and shiny, the iPad is one of those items you may spend months debating over. Pouring over pictures of it, reading the details listed, and now, gushing at the fun accessories. When you finally give in (especially if you're a frequent traveler you have the whole it-would-be-so-convenient-for-all-the-traveling-I-do excuse) here are some of our favorite accessories that balance the cool and practical factors perfectly.
GripStand 2 / GripBase Bundle in White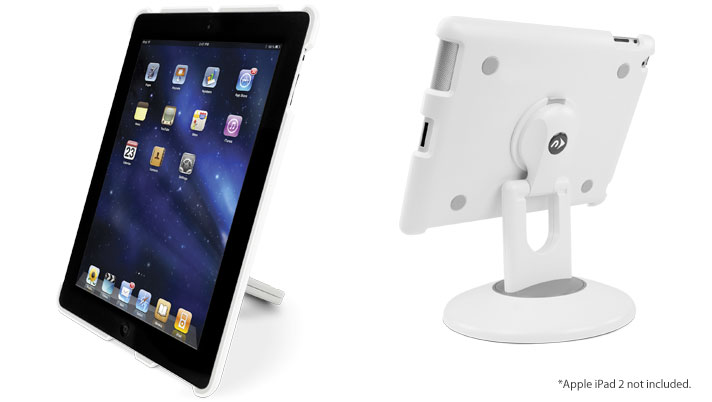 Not only is this a killer deal, but it completely justifies itself with practicality points. The GripStand 2 (on the left) provides a shell of protection and can be swiveled 360 degrees. Perfect for watching a movie on the plane.
Or, if you're so inclined, it can be turned into a hook so you can hang your iPad 2 on the wall and display pictures from your trips.
The GripBase (above right) is equally cool and ideal for desk work. The wideness of the base makes it almost impossible to knock over.
This package also comes with a nylon strap (right) to securely attached your iPad 2 to a vehicle headrest. Perfect for the kids to watch movies on a long road trip.
iPad Smart Cover
Color makes everything better, and this smart cover from Apple makes an already amazing iPad even more amazing. It protects the screen and can fold over to create a stand for a propped-up view. Say goodbye to the clear and boring screen protectors and say hello to color.
Substrata Wood Cases for iPad 2
Pieces of artwork handcrafted in Oregon. Need I say more? I think the pictures do the talking in this case.
Nomad Brush
Developed by an architect/artist, this brush is perfect for an afternoon of painting in the park. Check out the art gallery featuring work created by the Nomad Brush.
Moleskin Folio Digital Tablet Cover
Because anything Moleskin does is cool. Also, there's a little pad of Moleskin paper attached to the case. Sometimes, nothing beats the old fashioned pen and paper routine.
And there is always a Moleskine Ruled Notebook
for the lover of pen and paper!