This past weekend Focus Features released the biographical drama Victoria and Abdul in a few major cities – and I for one adored it, for semi-selfish reasons.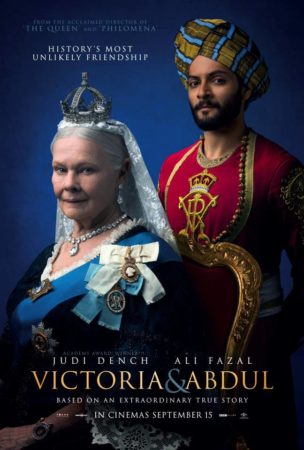 Judi Dench is fascinating, quite royal, and even somewhat repulsive as Queen Victoria. Having just seen her vibrant and interesting interview on Charlie Rose a few nights before the screening – it was startling to see how much she aged – over time – in the film. The close-ups are so tight – there is no forgiving soft light. Aging does its damage and this director, Stephen Frears, wants us to feel it.
But Victoria is lit up with curiosity and delight by her friendship with Abdul – absorbing a new language, foreign traditions and indulging in strange spices.
Abdul is lightly defined, charming, quick on his feet – serving as a foil to the Queen and deep concern to the royal entourage. He is the spark that brightens her cheeks and deepens her resolve.
I enjoyed the unfolding relationship of an unlikely pair as much as I studied every inch of the wide-screen shots of the sweeping hills of Scotland, England and India. Queen Victoria appears to have loved travel – loved the outdoors – and that allows us to visually indulge in her various estates.
In retrospect its a true glimpse of a very brief and rewarding moment in an extremely long life for the times. As an aging senior she had seen it all, lost many friends and foes, and easily naps more than one should in polite company.
If it is history you are looking for, or perspective on the times, it's too light to make an impact. The movie pivots on her dialogue and discoveries. Depicting the last source of human spark in a long and lonely life.
I came away with thoughts of loneliness, late in life love, lifetime friends and where eventual senior travel might take me. Our rewards for investing time in new friends, exploring new places, and learning new skills are rich and colorful and obtainable for all.
We are here for a greater purpose.