The Tiny House Movement has gained momentum over the last decade. In this time of uncertainty, many are opting to make significant changes in not only housing, but overall lifestyle. We hear about minimalist living, going off the grid and new day nomads, but rarely do we understand the depth of the decision or process to make the change a reality.

This month, I had the opportunity to learn why Tiny got so Big at a local festival.

John and Fin Kernohan, founders of the United Tiny House Association, graciously invited me to a Central Florida event to learn more about the Tiny House Community and the unique lifestyle that has gone global.

The two-day annual event was hosted by The Villages Polo Club. The Villages boasts its own celebrity as the country's most celebrated 55+ residential community aka Disney for Seniors.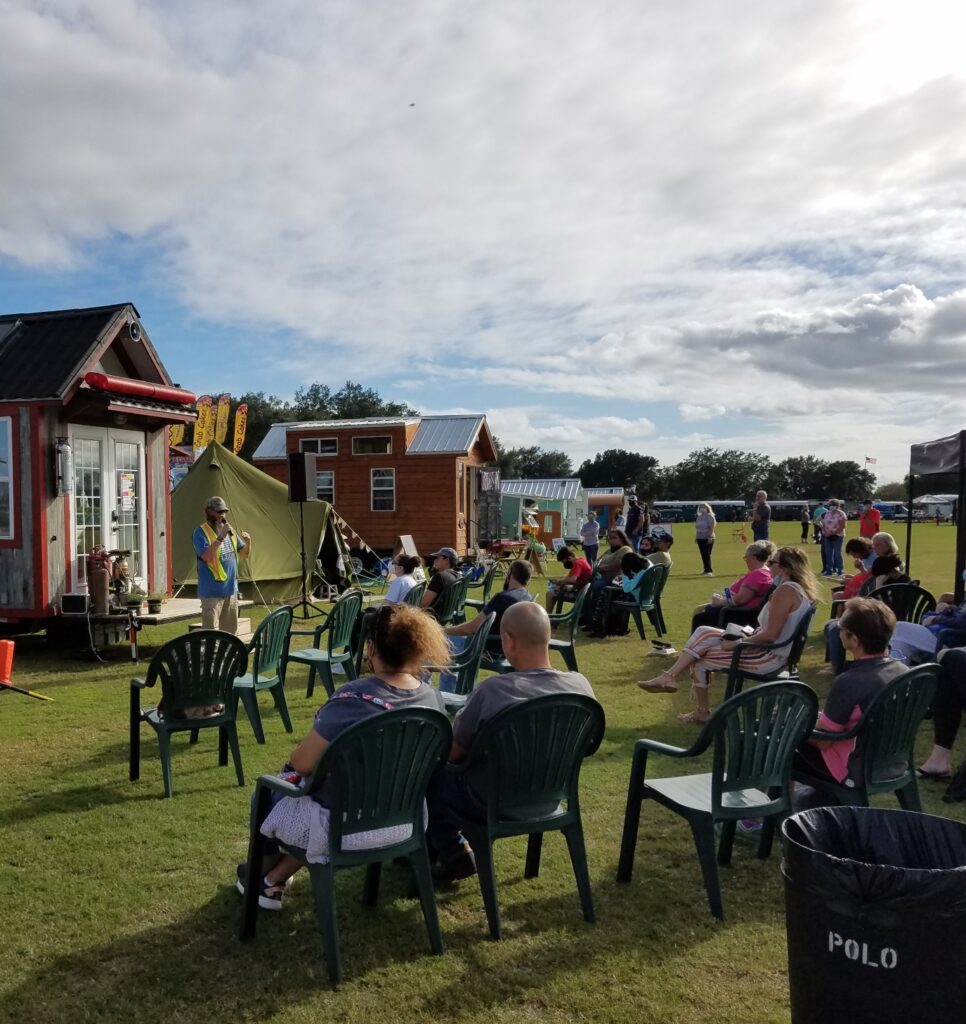 The attendees did not fit any defined demographic. All ages and ethnicities were represented. Young, old and in-between; all focused on the dream.

The open-air venue with a bohemian village vibe and layout showcased much more than Tiny Houses. Skoolies (converted school buses), Gypsy Wagons (vardos), Custom Vans, Yurts and more were part of the Tiny House Festival community party.

Many of the owners of exhibiting homes had traveled miles and multiple states to educate and inspire. I was excited to meet up with these visionaries and hear their story.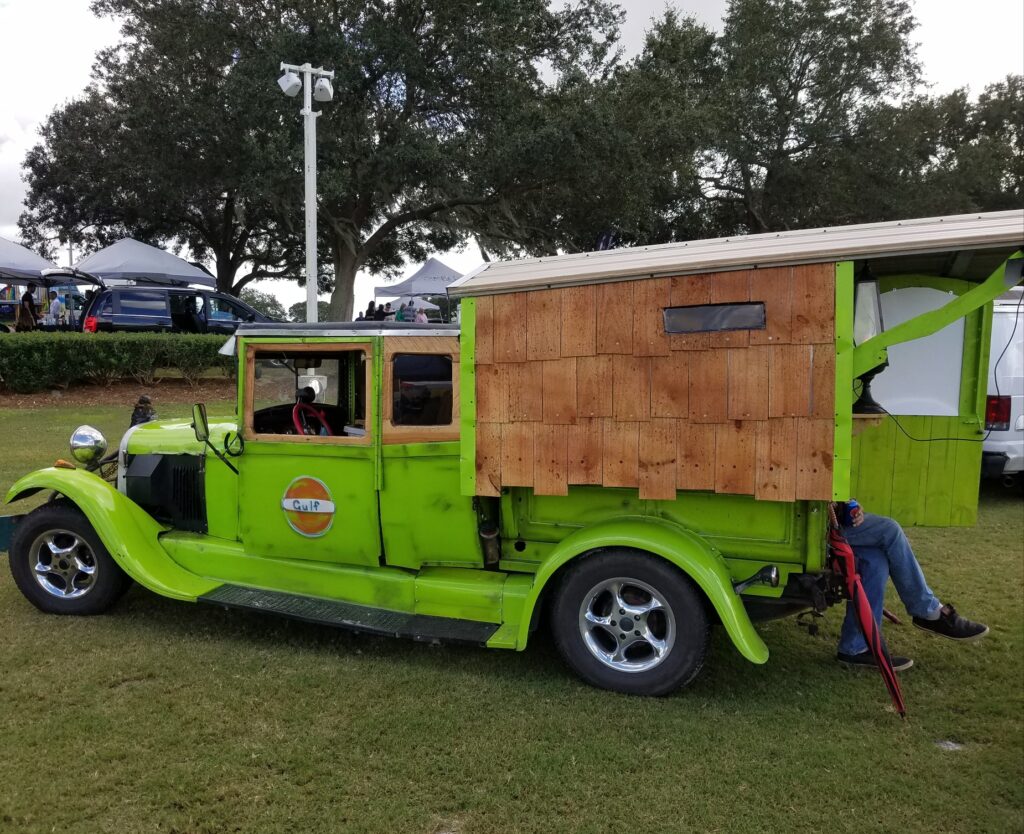 Social distancing guidelines were enforced with masks required and controlled entry. Most folks did not mind. Less people inside each home offered optimal viewing and an opportunity to chat with the owners.
Questions raced through my mind:
Why did you do this? What was your motivation to make this drastic change?
Do you really live here full time?
What did it cost to build, convert, upgrade this tiny home?
Where exactly is the toilet? Shower?
How does the power supply, water supply work?
And, more importantly, where do you store your clothes, shoes and accessories?
Laughing, rolled eyes and smiles were the standard reply.
It is an individual choice. And, it is about sacrifice and saving grace.
You WIN when you LOSE (stuff).
Minimalist meets Gypsy Spirit.
There is a sense of relief when you disconnect from the material world.
Freedom prevails.
Understand, this is not an easy project. It takes research, a lot of time watching YouTube videos and following the experts who become your magical mentors.
These dreamers, are just like you and me. They come from all walks of life.
I met a young professional, a successful skateboard rep, who opts to travel with his home and office in tow. His super bus has all he needs to keep him happy.
And, the family perspective is exemplified by The Stones.
A dynamic entrepreneurial couple with their two young daughters chose the open road to city comforts. Chasing the Coastline is their mantra. They chronicle their journey on social media for family, friends and followers. I was impressed by Elizabeth Stone, a new age self-proclaimed Mompreneur. She continues her career as a consultant securing funding for start-ups. Her mind is now clearer and open to engage all possibilities and empower others.
Each home tour and conversation gave me great insight.
Tips & Highlights:
Before you build a Tiny House or Convert a Bus, HIRE a Licensed Inspector. If you fail to do so, you may not get financing, insurance or both. NOAH Remote Digitized Inspections is a respected resource.
Check out the Building Codes and Real Estate Laws in your state. Some states will only allow a Tiny House on Wheels on your property for more than 6 months without tax implications. The same applies to Skoolies.
Explore registering your converted Bus or Tiny Home on Wheels in Vermont or South Dakota. It is my understanding you can do so without being a full time resident and save money.
Be sure to inspect the engine on a bus before buying. If it is not in good working condition, you may end up with repair/replacement costs of $5-10K. On a good note, Diesel buses can average up to 11 miles per gallon.
Solar panels are key to generating cost-efficient electrical power. However, the batteries utilized to store that solar energy can be pricey ($500-$1000 each).
A Compost Toilet system, which is its own mini-ecosystem, gets the thumbs up for most owners. The toilet uses no water, so there is no plumbing, no chemicals needed and no flushing. It is completely natural so the compost aka black gold can be returned to Mother Earth as fertilizer.
Water is stored in tanks usually under the bed or within a panel wall. Be sure to install the right size and number of tanks to match your needs now and into the future.
Sharing a few links that are sure to add fuel to the curiousity fire:
The list is endless of worthy DIY Michelangelos. YouTube has countless channels dedicated to the subject. The fan base challenges the Kardashians.
Cultish can be a strong word…but a good thing when the goal is to live green, conserve resources and get back to simple living.
Not sure if you want to crossover just yet. No worries, renting is great first step option.
A Room To Roam, based in Central Florida, offers rental homes, campers and wagons. Glamping Hub and Airbnb have listings across the country. Kim, a fellow Floridian, Tiny House enthusiast and an AirBnB Super Host loves being an owner. Her Tiny House rental is in the beautiful historic town of Marianna, Florida.
Remember Living Big is all about Attitude.
A Tiny House may be the first step to the start of a wonderful new adventure.
Going Mini and Metropolitan in Dublin, Ireland