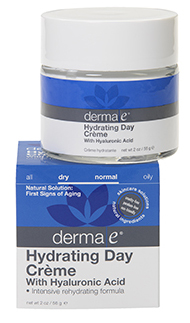 Skin rejuvenation comes easy with the derma e® line of natural skincare products.
Hyaluronic acid aka the HA Factor is one of the beauty industry's treasured secret weapons. HA is a natural sponge; one molecule can hold up to 1,000 times its weight in water.
As the body's natural HA and collagen production decrease with age, it is important to add restorative and hydrating treatments to your daily regimen.
Youngblood Beauty offers a perfect solution – a specialized anti-aging line designed with ultra-hydration in mind.
Harnessing the power of hyaluronic acid, the derma e®  day and night crème formulas deeply moisturize and plump the skin. 
HA may be tiny, but is a mighty moisture magnet that works magic in just a few weeks. I am a believer. Remarkable results are revealed every time I look into the mirror!
The nutrient-rich crèmes also feature antioxidants, aloe and vitamins to soothe, repair and protect dry and aging skin.
With regular use, skin is left soft, smooth and supple. Fine lines and wrinkles are diminished.
derma e® is committed to delivering affordable and effective natural solutions that work with every skin type and need.
Beautiful radiant skin without breaking the bank!
Stocking Stuffer Alert: the crème duo is sure to make the perfect partner in crime for divas in need of a little pre-holiday party primping and priming.
Product Highlights:
100% Vegan
Eco-Friendly
Cruelty-Free
Paraben-Free
Sulfate-Free
Mineral Oil-Free
Lanolin-Free
Gluten- Free
GMO-Free
Product Pricing:
Day & Night Crème: $29.50 each ( 2 oz.)
Fast Fact: derma e® products are based on The Free Radical Theory of Aging
the cumulative exposure to free radicals causes visible signs of aging and the decline of your skin's health
you encounter free radicals everyday (over-exposure to sun, toxins, second-hand smoke)
antioxidants fight age damage
topical antioxidants are the fastest and most effective way to counteract skin's age damage caused by free radicals
For more product and where to buy information, visit the derma e® website.