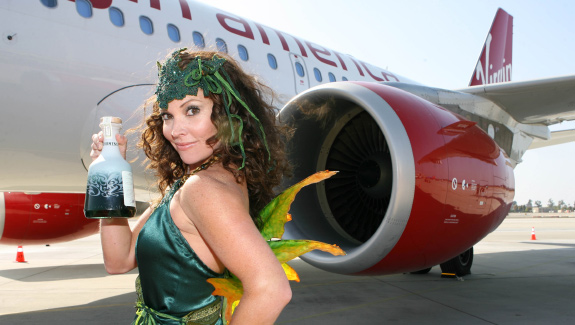 Don't be surprised if you see The Green Fairy on board your next Virgin America flight. Authentic French absinthe Le Tourment Vert announced its partnership with Virgin America, becoming the first airline to serve absinthe cocktails in the sky. Virgin America will serve complimentary Le Tourment Vert cocktails in the airline's First Class and Main Cabin Select – and the cocktails will be available for purchase in the Main Cabin.
Here at Tango Diva HQ we may not be on board a Virgin America flight at the mo', but that hasn't stopped us from tapping into our inner Hemingway and imbibing in la fée verte ourselves. Yum! Although we all agreed it would be made all the better if we were in some swank bar in 1920's Paris.
How to make the Mile Hile Cocktail:
1 part Le Tourment Vert absinthe
2 parts Sprite
Garnish with lemon. We like it extra cold and with plenty of ice!
Enjoy!