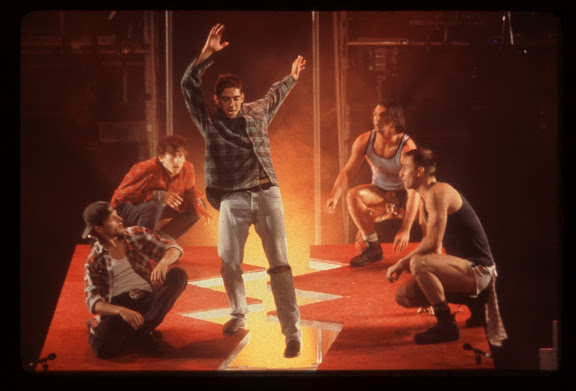 Tap Dogs, an international performance dance sensation hits Florida's First Coast on Saturday, November 10th at the Times-Union Moran Theater in Jacksonville. A sell-out success – 330 cities and over 12 million seats sold to date – Tap Dogs will not disappoint.
"Part Theatre…Part Rock Concert…Tap Dogs delivers an unconventional and contemporary performance with universal appeal" – Barry Davis (BBC Dance, Commentator, Sydney Olympics)
Creative collaboration and true-to-life inspiration is the secret behind the show's rave reviews and positive buzz!  Two-time Olivier award-winning Australian choreographer, Dein Perry and the eclectic set creations and direction of Nigel Triffitt brilliantly bring the underlining story line to life on stage. The setting is Newcastle, a blue-collar town just north of Sydney. Here the local steel workers find an outlet from the daily grind and looming despair in dance.
Get ready for some extraordinary dance numbers –NYC street scene meets factory/steel worker frenzy with a Hollywood twist. Add in a powerful and driving musical score by composer, Andrew Wilkie…and you have a recipe for a theatrical hit!
"Think Tap Dance on Steroids"
An electric high energy show guaranteed to pump you up and get the adrenalin going!
Date/Time: November 10, 2012; 8 p.m.
Location: Times-Union Center's Moran Theater; Jacksonville,Florida
Tickets: $27 to $82
Available online at www.artistseriesjax.org or 904-442-BWAY
The schedule has a limited run in the U.S.
Other Tour Dates thru December 2012:
November 11 – The Philharmonic Complex; Naples,Florida
November 18 – Kauffman PAC; Kansas City,Missouri
November 24 – Strathmore Hall; Bethesda,Maryland
November 29 –Kent State Auditorium; New Philadelphia,Ohio
Check out Tap Dogs on YouTube:
http://www.youtube.com/watch?v=o5ZG9yaHGbo&feature=plcp
For more information on the dance company and the complete tour schedule visit: www.tapdogs.com
Photos Courtesy of The Artist Series – Jacksonville, Florida.