Monday, November 28th, 2011
As if the home decor and furniture store, West Elm wasn't cool enough, I just discovered their online city guides. West Elm has been my go-to for home inspiration and it doesn't break the bank. Their modern-classy-cool vibe always draws me in, and now they have city guides to match. They explore the coolest places to eat,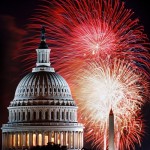 Tuesday, June 30th, 2009
The boom of fireworks, red and blue streamers scattered on the grounds of parade routes, the sizzle of burgers at backyard barbecues – these are the familiar sights and sounds of the 4th of July and they...
Wednesday, July 2nd, 2008
A visit to a major museum or historical site in New York, Boston, L.A., or any other one of America's cultural hotspots can always be divided into two categories: the time you wait to buy a ticket,...