Sunday, October 28th, 2012
Have you ever left a meeting because you forgot your phone? My trusty assistant keeps notes for me, takes beautiful photos, has apps galore, and even makes phone calls now that I've switched to Verizon. I'm still looking for an App to make my dinner. But I digress. My point is that once you start
Thursday, September 17th, 2009
Introducing the first Apple approved solar powered iphone & ipod charger by Novothink. Combining the goodness of green technology with lots of fashionable colors. The custom-sized skins weigh less than three ounces and with direct sun, charges...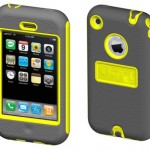 Tuesday, June 23rd, 2009
Summer has finally begun and the beckoning of a much-needed vacation is on the horizon. Whether it's a trip to the beach, an outdoor adventure or just a day in the city, OtterBox has protective and stylish...