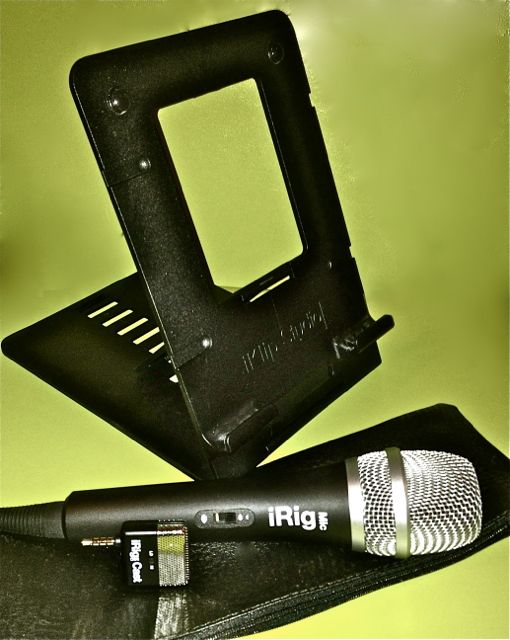 Have you ever left a meeting because you forgot your phone? My trusty assistant keeps notes for me, takes beautiful photos, has apps galore, and even makes phone calls now that I've switched to Verizon. I'm still looking for an App to make my dinner. But I digress. My point is that once you start relying on your phone your expectations rise. Maybe you've noticed that not exactly professional hiss in the background of your iPhone/ iPod/ iPad recordings.
iRig Mic Cast:
These days iPhone videos are often seen on television. I say it's time to start re-educating the viewers on broadcast standards of yore. The iRig Mic Cast pops right into the speaker jack, long enough to work with your phone's case left on. Don't you hate taking the case off constantly because some plug isn't long enough? I love that there's a headphone jack on the mic so you can monitor your audio recordings. The mic itself is really small and light. Put to the test I would say it's the best in its class. You definitely have to use this mic in a quiet space. Think of the Mic Cast as your $35 anti-hiss device. The package includes a stand meant for recording in your home studio. The iKlip stand doubles as an excellent desk buddy for easy monitoring of texts while both hands are on the keyboard. (Not at work of course).

iRig Mic:
The iRig handheld unidirectional condenser microphone is the real deal. This mic looks just like those professional Shure models with the built-in metal wind screens as seen on TV. It's actually metal and the first iPhone accessory I have seen that doesn't feel like "Baby's First Audio Kit". The package includes three apps, VocalLive, AmpliTube, and iRig Recorder, which create sound studios in the palm of your hand. You get a zippered carry case which fits not only the mic, but the included mic clamp and dual mini-jack for monitoring your recordings in real-time. The three level gain switch is just the ticket for adjusting your sound level. During tests the mic actually did it's job, filtering out the background noise in a crowded café. Be aware that plugging into the iPad mic port disables the internal speakers. You probably have a nice set of external speakers anyway. I've seen this package selling from $47 to $59.99.
iRig AmpliTude:
If you are a hard-core musician pick up an iRig Guitar Interface Adapter. Karaoke anyone?
iKlip Studio:
Now that you've eliminated studio fees you can pop $40 for an iPad desktop stand. The iKlip Studio has a solid feel. There are eight different height adjustments just like a deck chair. Best of all, this stand folds up neatly to about one and a half by nine inches. It's got rubber feet so no more sliding around, and a built-in swivel for horizontal or vertical viewing of your virtual sound board. This is way cooler looking than trying to use the sliders on your iPhone screen.

iRig products are available from IK Multimedia, Apple stores, and Google results everywhere.