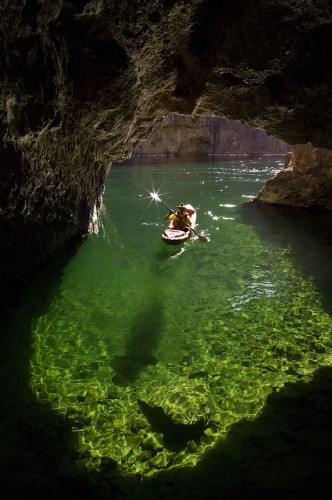 Saturday, January 14th, 2012
KAYAKING & CAMPING: Black Canyon/Colorado River Kayak the Colorado River from Hoover Dam to Willow Beach. Trip includes Camping, Hot Springs, Sauna Cave, & Emerald Cave (pictured). – Easter Weekend – $100 per person This is a Meet-Up event – you first join Meet-up and then add this group (LA Outdoor Adventures) to see all
Monday, June 21st, 2010
Western River Expeditions is hosting a Girlfriend's Getaway July 20-23. Also, two, four, and six day Summer-long rafting adventures on the Colorado River through Cataract Canyon in Utah. Let out your inner adventurer! All programs include: rafting...
Wednesday, July 23rd, 2008
Houseboats have come a long way since their heyday in the 60s. Tango Diva founder Patti recalled a vacation she took a year ago on a houseboat in scenic Lake Powell, Arizona. She describes a lazy afternoon...