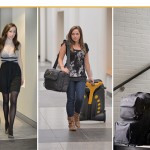 Monday, April 27th, 2009
I'll admit… when I first saw this, I had a bit of a giggling fit. A power operated bag? Come on! But, upon further inspection, I decided I quite liked it. I've been known to pack enough...

Wednesday, July 23rd, 2008
One of the most common travel inconveniences is having to buy another suitcase or duffel while on vacation so that you can schlep all your newfound, exotic goodies home. And nobody wants to bring an extra,...