Puerto Rico offers the perfect Caribbean destination from the U.S. for many reasons. First is the ease of travel; even after new passport requirements for Canada and Mexico, as a U.S. Territory you are not required to have a passport to enter. Not only is this great for non-passport holders, it also makes travel easier for the rest of us, as you don't have to go through customs or immigration either way.
Puerto Rico is also the best of both worlds for U.S. travelers, in the sense that it has a healthy combination of U.S. amenities, stores and services, along with its own distinct culture and tropical exotic flavor. Everyone can be happy here, whether they are looking for recognizable shopping and restaurant names or the most local, unique experiences. Spanish and English are both official languages (with English spoken by every single person I encountered), and the U.S. dollar is the local currency.
Often called the "Island of Enchantment," Puerto Rico has been mainly influenced by the Spanish, but also by Indians, Africans and Anglos. This has created a vibrant, multicultural society along with a wealth of historic forts, palaces, cemeteries and other buildings. The magnificent walled city of Old San Juan is the place to explore this history, where you can walk on the 16th century ramparts and visit colonial fortresses that are now UNESCO World Heritage Sites.
And there is no better way to explore Old San Juan than by bicycle. I had a fantastic time pedaling around with Nancy Cruz-Sotomayor and her bike touring company, Rent The Bicycle. The easy-to-ride road cruising bikes provided the perfect way to get around quickly and easily, while seeing much more than possible by vehicle. I should disclose here that I am not an accomplished cyclist at all, and I found the tour easy and completely enjoyable. Nancy and her husband Tony are great guides who will customize the tour to your liking, and you can take a break anytime you want.
On a bike, you can stop and take a photo or check something out more closely whenever you want. On our ride, we visited the El Morro and San Cristobal Forts, stopped at the Don Q tequila shop for a quick pick-me-up, then cruised along the gorgeous public beaches. At the last of these, I ended up rescuing a tiny baby kitten that was alone and abandoned. What else could I do? I only planned to take the adorable little thing to a rescue group, but Nancy ended up adopting it as a family pet and mascot for Rent The Bicycle. She was christened "Helmet," and has been living happily with Nancy and Tony since, I'm happy to report.
When it comes to eating, several great spots in Old Town frequented mostly by locals provide authentic dishes at extremely reasonable prices. For breakfast, check out Cafeteria Mallorca; it's been around more than 50 years and the 94-year-old owner is still around most days (300 Calle San Francisco). For lunch or dinner, you can't go wrong at El Jibarito, a modest yet charming restaurant that may serve the absolute best Mofongo, a local specialty. I had the scrumptious Puerto Rican tamales, which are made with plantains instead of masa and stuffed with the most moist, flavorful pork or chicken (275 Sol Street).
Of course, no Caribbean vacation would be complete without getting on, and into, the water. There are lots of options in Puerto Rico, from diving to windsurfing, or simply swimming. Consider taking one of the many boats that head from the El Conquistador Marina in Fajardo, for the gorgeous, uninhabited, smaller offshore islands.
Casa Del Mar, a PADI Dive Center and Boat Charter company, set our all-girls group up with Captain Tyrone for a great afternoon of beachcombing, picnicking and snorkeling. On Culebrita Island, my footprints were the only ones in the sand as I explored the shoreline.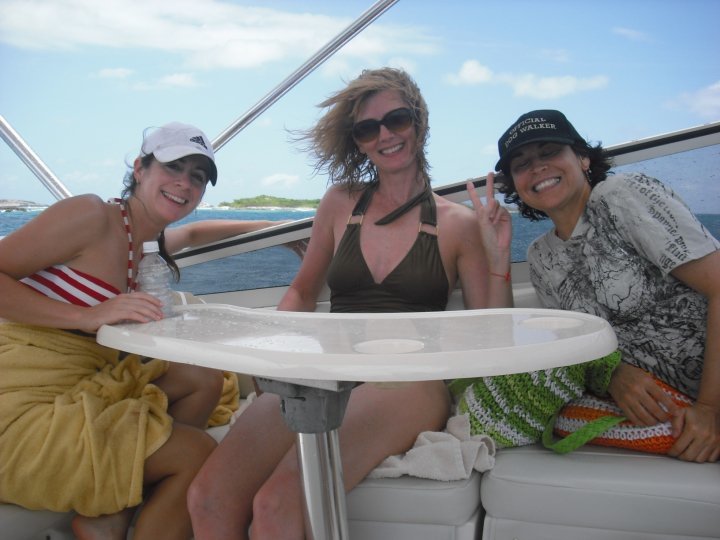 IF YOU GO:
STAY at the San Juan Marriott Resort & Stellaris Casino, in an excellent location within walking distance to many shops and restaurants, relaxing pool with slides for the kids, and entertainment from the casino (where you can take free gaming lessons) and live music on weekends.
GET AROUND with Rent The Bicycle, offering great tours at a reasonable $27 per person, which includes a 3 hour guided tour, hotel pick-up, bicycle rental and helmet.
SAIL with Casa Del Mar, a PADI Dive Center and Boat Charter company.
*******************
Shelley is a freelance writer based out of Austin Texas, but she vagabonds in any part of the world whenever possible. Her non-fiction book, The Weight of Silence: Invisible Children of India, follows her journeys into the orphanages, streets and slums of India where millions of children live without families. Shelley's areas of writing specialty include travel, cultural issues, the arts, women & children, non-profit and social activism, entrepreneurship, business, architecture and interior design.
Shelley Seale has written for National Geographic, Globe Pequot Press, Washington Magazine, Transitions Abroad and Andrew Harper Traveler Magazine among others. Her work has also been published in The Seattle Times, GoWorld Travel Magazine, Intrepid Travel, InfoChange India, The American Chronicle, The Austin Business Journal, Austin Monthly, San Antonio Express-News, Austin Woman and more.
be sure to also check out Shelley Seale's webpage