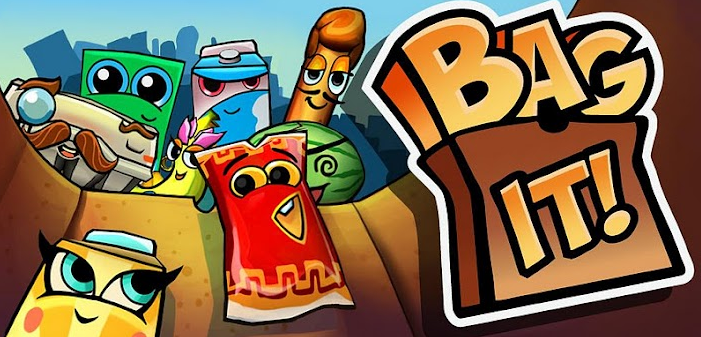 COMPETITIVE GROCERY BAGGING:
I thought I was master of my recycled shopping tote. Darn that BAG IT! game app. Hidden Variable Studios has created the ultimate brain tease for iOS and android devices.


MOVE OVER BUBBLE WRAP:
Ever the intellectual snob, I've always preferred the stimulating pop-able plastic, shunning all forms of poker, Pokemon, and play stations. There is also the matter of my having no idea how to play any of these games. Then I heard about East Carolina University's study on the stress-relieving, mood-lifting effects of non-violent video games. Just the excuse I needed to buy that iPhone.  Now, I can use that Movie Box app everyone has been talking about.
LET THE GAMES BEGIN:
Readers, do you suffer from stress, blue moods, psychological tension, anger, depression, lack of vigor, fatigue and/or confusion? Who doesn't? Check out your app store of choice and note that most game apps are free to $1.99. Come on, you're worth it.
HERE'S WHAT I LIKE ABOUT BAG-IT!:
It's non-violent, fun, easy to learn the basics, yet difficult to master. This means you won't get sick of playing the game for the thirty minute stress break you probably need. I recommend you start with the easy games to familiarize yourself with the characters and develop a false sense of bagging adequacy. Flirty Crusteau (French Bread) has to be protected from the eye patch wearing Seedy (watermelon). Will Sunshine (juice carton) squash Lucky (cereal box)? Not to worry, BAG IT! gives you endless re-dos until you figure it out.
HINT, YOU CAN ROTATE ITEMS SIDEWAYS:
Hold that pesky oblong melon taking up space in your bag with one finger and tap anywhere on the screen with another finger. The goal is to master each level while winning points for access to even greater levels of skill. If you lack patience, buy your way up the ladder for 99 cents a promotion. Just like real life,… not! Predictably, my favorite mode is smashing groceries for speed and points. This game is currently using a novel app marketing tactic and the returns are clearly strong, ranking at the top now for quite some time!

GET FIZZY WITH IT:
In May 2012 BAG IT! introduced its new character FIZZY, a nervous can of compressed propellant ready to explode if any grocery item gets too close. BAG IT! is so much fun you'll want to tell the world.
GOTTA EARN MY ULTIMATE BAGGER BADGE.