As Portland continues to move back towards being completely open, many residents are once again reveling in the excellent food, shopping, and events the city has to offer. With vaccination rates in Multnomah county exceeding 70% of the population for all ages, a drink at a local bar has returned to being a frequent and relatively safe evening activity. Having spent the last year and a bit fully indulging the hermit inside me, heading out for an evening with friends feels like a true luxury. And luxurious is just one word I would use to describe Pink Rabbit, a cocktail lounge with a rosy Alice in Wonderland feel, stylish without being gimmicky.
Located in the Pearl District of NW Portland, the bar is a great spot to stop before perusing the books at Powell's or for continuing the party throughout the many food and drink offerings of the area. The moody and ethereal pink lighting, trippy murals and artwork with a nod to Alice and the rabbit hole, and unique cocktails and eats lend to an overall decadent and fun experience. Grab a seat in one of the many booths and you can enjoy the plush powder blue velvet seats while sipping on a cocktail that has an eco-friendly impact. Per their menu, Pink Rabbit donates $1 for each cocktail sold to the Friends of Trees foundation.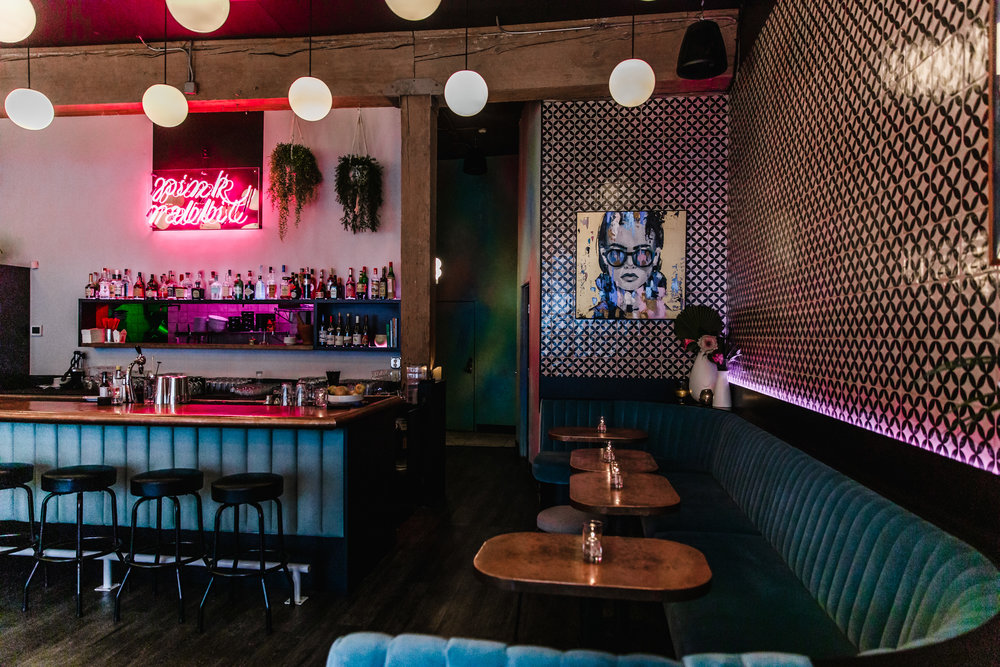 With a friend in tow, I visited Pink Rabbit on a rainy Portland Thursday. Stepping into the pinkish glow, with a symphony of textures and colors, the bar was an oasis on a gray day. While there, I enjoyed the Mistress Kiss from the "Bitter, Boozy, Bruting" section of the menu. Delightfully fresh and not too strong, the drink was a perfect choice for an end of the week evening. My counterpart and I indulged in a plate of the Wonton Nachos (the crispy chips were perfection) and the Pink Rabbit Pita (nothing beats a good Tzatziki sauce).
The servers were friendly, kind, and happy to answer any questions. Just before leaving, I spotted some of the artwork lining the back hallway. The prints had a distinct Alice in Wonderland inspiration, with a funky and hip twist. Created by Bryce Wong specifically for the bar, in addition to the pink rabbit mural along the North wall of the space, the framed works added the extra layer of unique and eye catching fun that Pink Rabbit exudes.
I came across Pink Rabbit while doing a quick search of nearby bars, and I strongly recommend that like me, you give it a try! Hours are available at their website, as well as a view of the menu if you want to plan ahead (reservations are available although I did not need one for a rainy weeknight).