My fellow Pacific Northwesters know well that the winter months can be harsh. Weeks of rain (I know, we love the rain, its part of why this region is so beautiful), grey skies, and short days with sunset at 5:00 pm make December through February particularly brutal. My friends and I cling to regular social interactions to get us out of our homes, and we have learned a few tricks for making those months a little more enjoyable and a little less all-consuming. In March of 2023, I tested out a new tool for my winter happiness arsenal.
When a friend called me, asking if we could plan a trip to celebrate her upcoming milestone birthday, my first thought was that it needed to be somewhere affordable. The previous few months had been full of weddings, flights, and catching up with family after the long years of quarantine. My savings account was hurting, and I dreaded checking my credit card bill.
My second thought was that wherever we went, it needed to have different weather than what I saw out my window.
With those two things in mind we discussed some options and landed on looking into Mexico. The tourist heavy coastal towns of Puerto Vallarta and Cancun were understandably pricey to fly to. I hunted through different destinations across the country, comparing dates and prices, checking activities, and downloading Duolingo to freshen up my Spanish. Mexico City came out on top, the flights were affordable considering we would be going abroad. Beautiful Airbnb's came out to around $80/night, a price unheard of for the areas we usually visited.
We booked our flights, going for 8 days (2 days eaten up by the travel time), booked a lovely unit in a stunning and old building, and began dreaming of the tacos and art that awaited us.
My flights over were plagued with a migraine, but even with the throbbing pain in my head and neck, I marveled over the scenery the whole drive from the airport to our accommodations. Our ride share driver navigated the traffic heavy roads of the city with an expertise I admired. The painted lanes were merely suggestions, and right of way was up to interpretation. And traffic lights? Part decoration and part suggestion, but by no means the strict guidelines we trust in the US. I thanked myself for not bothering looking into car rentals, I would leave the driving up to the seasoned locals.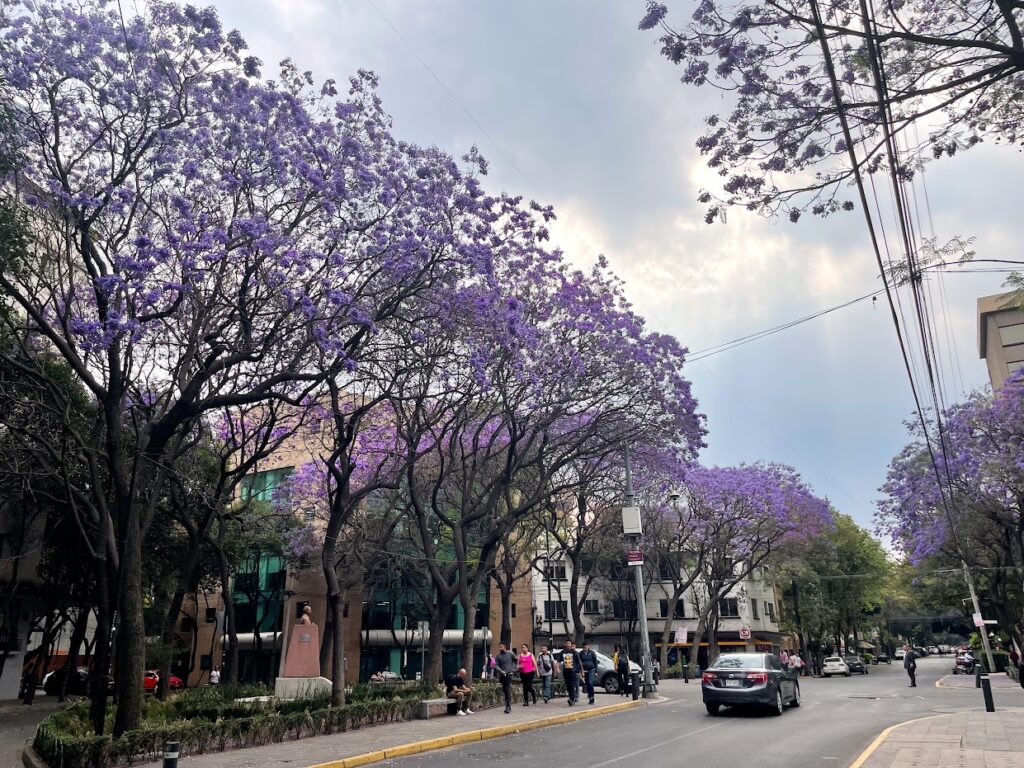 I grew up as a part of the Spanish immersion program in Northern California and continued my learning well into college. Thanks to the programs afforded to me growing up, I have been fluent in Spanish most of my life. I have spent close to two decades learning about Mexican culture, cuisine, and art in a classroom setting. Mexico City was the first time I saw it in person. I fell head over heels in love with the pieces of Mexico City that I had time to enjoy. Perhaps the emotional reaction is fueled in part by the relief of having the dark clouds of winter literally and figuratively removed, but I truly believe that Mexico City will remain one of my favorite places I have ever had the good fortune to explore.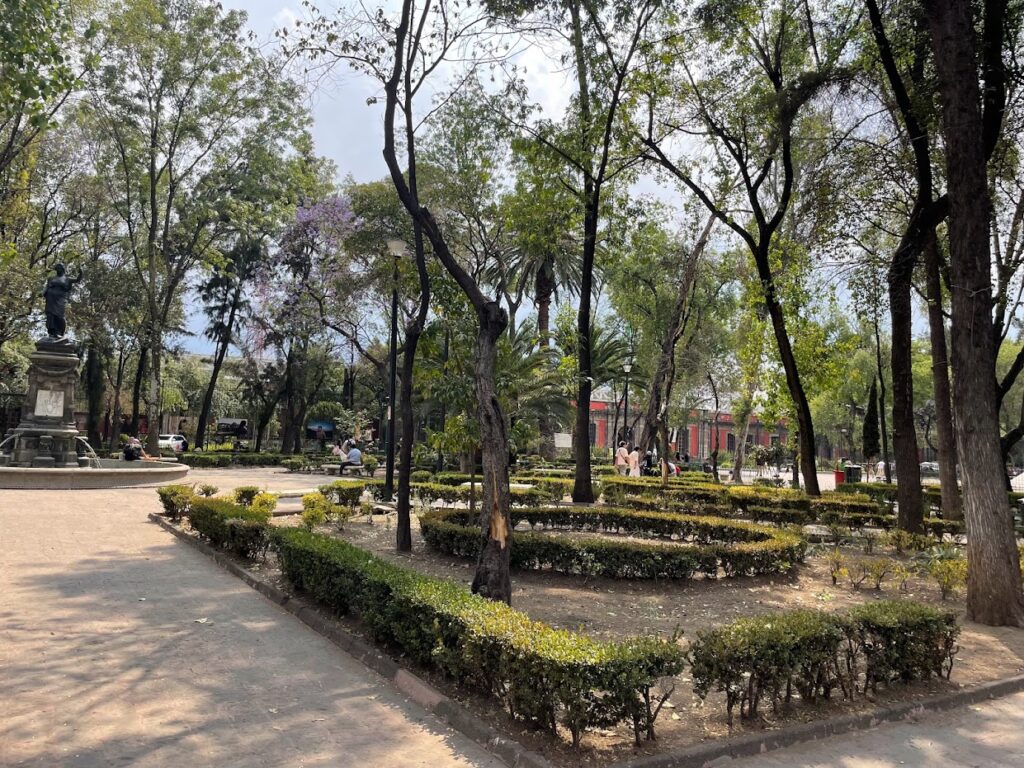 The city is a wonderland of greenery, unique architecture, artwork, and kindness. Stunning Jacaranda's with their fluorescent purple blooms line the streets, and you would be hard pressed to find a city with more dogs walking alongside their owners. There were more museums than we could manage to fit in, even with over a week in the city. We ate at a different restaurant everyday, one for lunch, one for dinner, and I never once got sick of the food.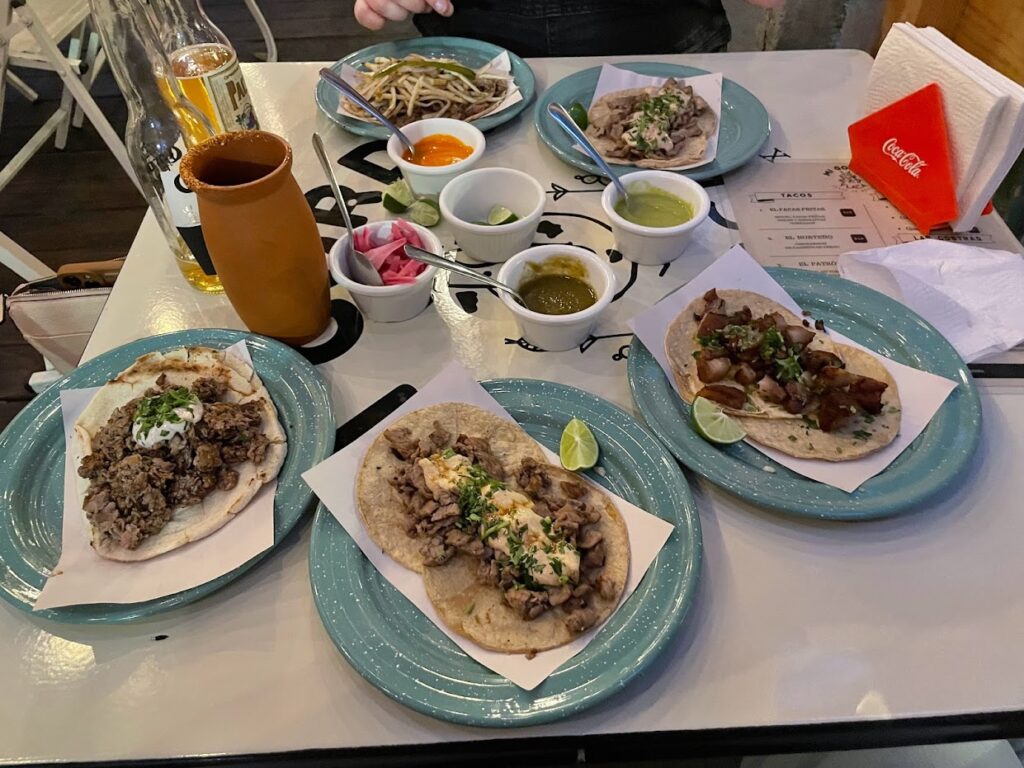 We drank Michelada's, walked for miles, soaked up the sunshine, and chatted with locals and visitors alike. On the note of chatting, despite my friend and I being freckled and blue eyed, everyone we encountered started in Spanish. I loved it, it challenged me and prevented me from relying solely on English speaking. By the end of the week we had both honed our skills, and I found myself easily gliding back towards fluency.
Day One, we headed straight for the markets to see what the local artisans had to offer. Once again we were pleasantly surprised by the affordability, and I cursed myself for having gotten used to the high prices of US cities.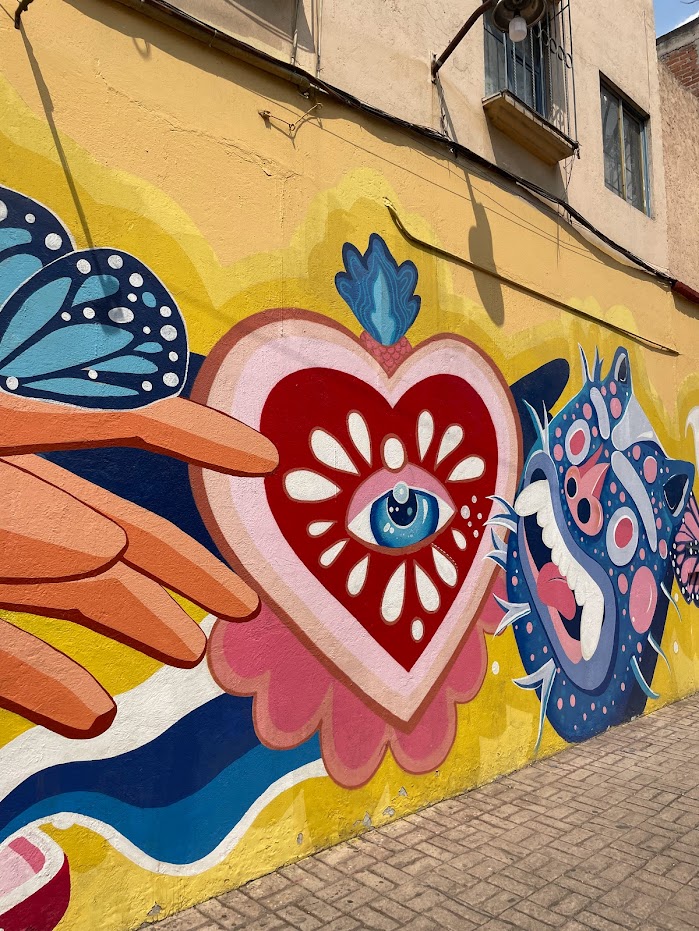 On Day Two, we spent our time wandering around Mexico City's large urban park, Bosque de Chapultepec, which houses the National Museum of Anthropology, as well as a zoo, botanical gardens, and a handful of other popular museums.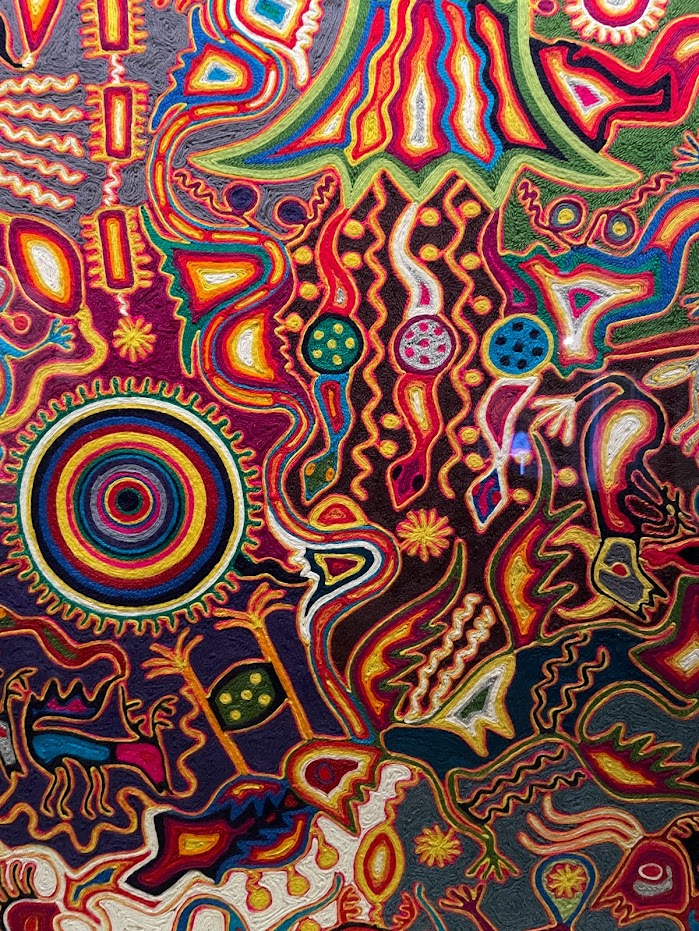 Day Three, we took a bus out to Teotihuacán, to explore the famous Aztec ruins. Typically you can take a hot air balloon ride over the ruins, but there was lighting on the forecast that day, so we enjoyed the area by foot.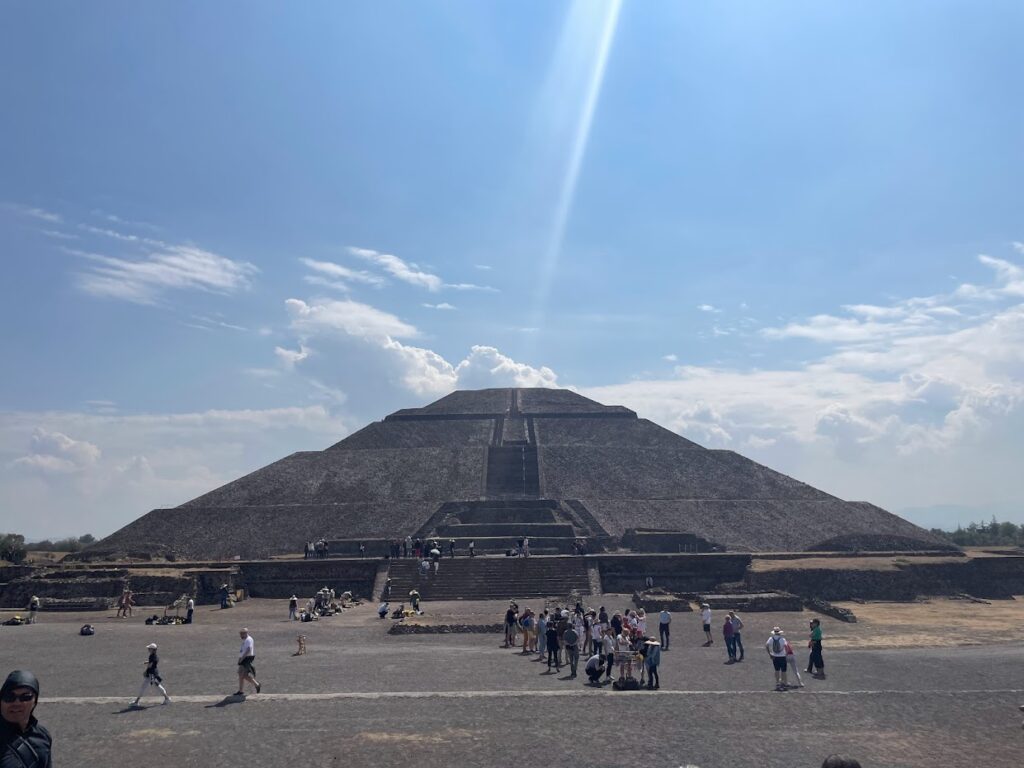 And of course after lots of walking in the hot sun at Teotihuacán, we enjoyed some beverages and food at a spot just down the road from the historic site.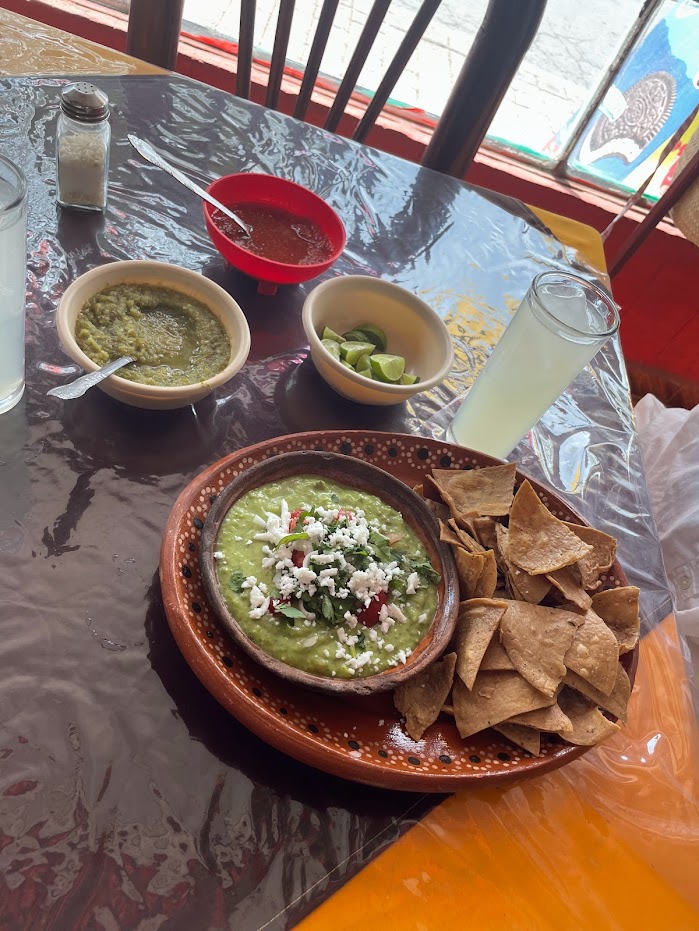 On Day Four, we went all in on museums, stopping at the Museo Sumaya (a free museum displaying work from Mexican artists) and the Museo Jumex (like the juice brand, this one had a Cartier exhibit full of vintage pieces. My camera struggled to capture just how shimmering the jewelry pieces were, so I will spare you the poor quality photos. Our walk back to the Airbnb took us through a wealthier part of Mexico City, the Polanco neighborhood.
Day Five, we went over to the Coyoacán neighborhood, an older neighborhood, and home to the Frida Kahlo home and museum, as well as Leon Trotsky's House Museum. My friend and I split ways, with her heading to Trotsky's and me to Kahlo's.
Frida Kahlo was a particular figure of Mexican history who I had learned about, and it was an incredible experience to see artworks I had only looked at in presentations and text books, in real life.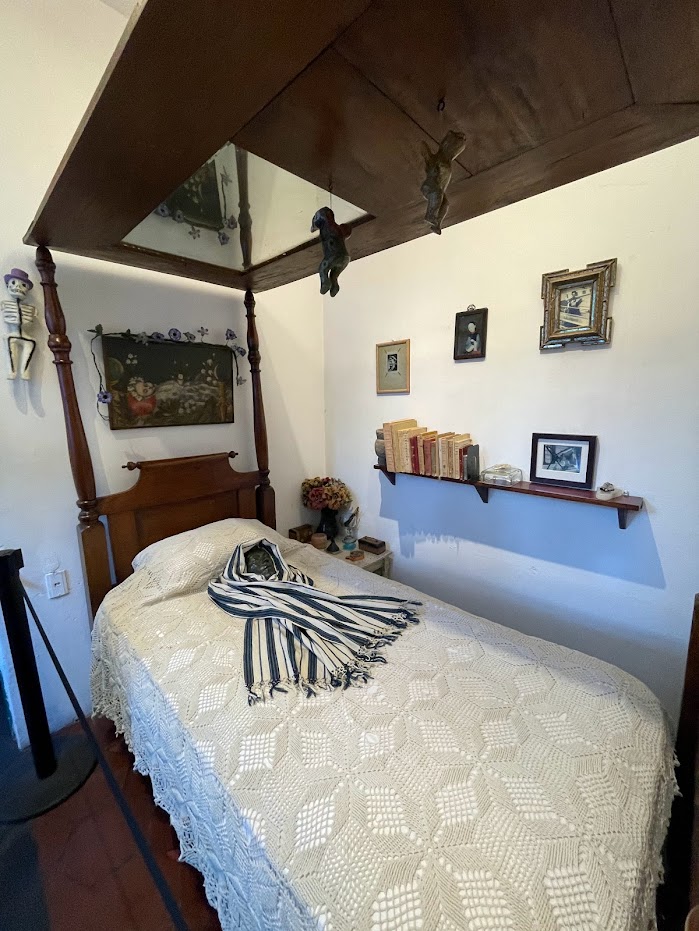 Day Six was our final day. We enjoyed one last walk through the neighborhood we had stayed in, gave a sweet cat some affection, and said goodbye to our beautiful AirBnB.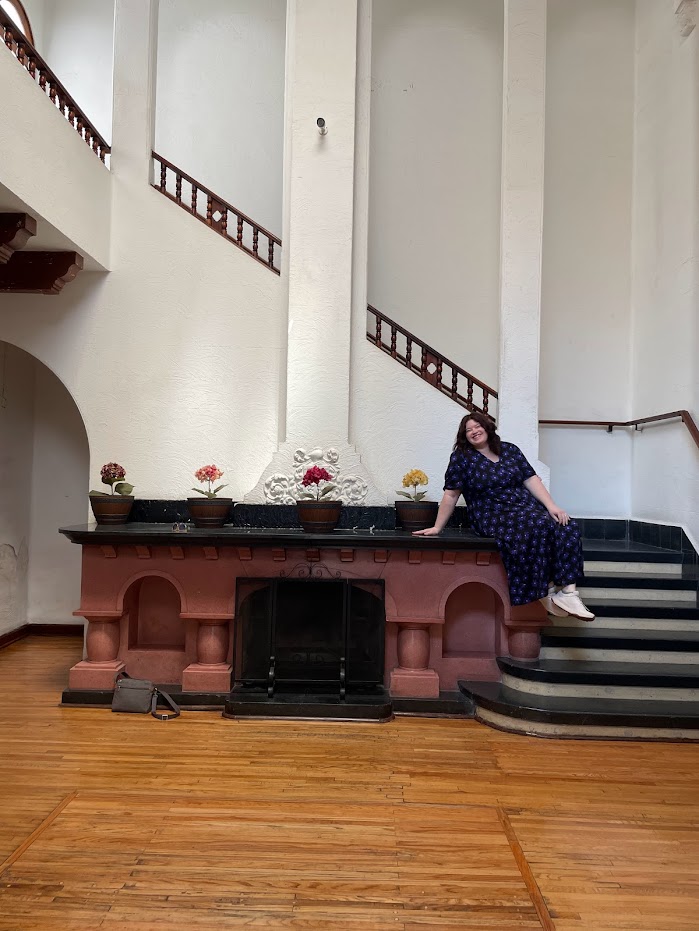 When it came time to go, I was reluctant to pack my bag and board our return flight. If money and time were no object, I could have spent at least another week if not three or four in Mexico City. By the time I had landed in Portland that evening, I already was planning the next trip.
Should you ever find yourself in Mexico City, I hope some of these spots can make it into your itinerary, I am confident you will enjoy them as much as I did.
Our AirBnB: Walk to Museums from a Calm Apartment in Colonia Cuauhtémoc