MEMPHIS, the 2010 Tony® Award Winner for Best Musical, heads south to the Sunshine State for Spring Break. The emotionally-charged show rocks Florida's First Coast and Jacksonville's Times-Union Center from March 18-23, 2014.
Despite MEMPHIS's serious subject matter, the music and choreography are empowering, keeping the audience on the edge of their seats in joyful anticipation.
MEMPHIS takes us back to the 1950s, a turbulent time of segregation and struggle in the deep south.
Hate and prejudice were the norm.
The story introduces us to a talented young black singer named Felicia who understands too well that being a "colored girl" can crush a dream. Felicia can't find a way to breakout of the underground segregated nightclub scene. She is often left disheartened and disillusioned. But hope is renewed, when she meets Huey, a young white DJ, who harnesses the power of the music to ignite communication and change.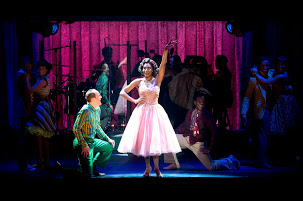 A touching love story unfolds.
A truly undaunted collaboration – his vision and her voice –fuel a cultural and music revolution.
MEMPHIS is an inspiring and electric performance that will touch your heart and elevate emotions.
The angelic rendition of "Love Will Stand When All Else Falls" reminds us that life is a journey set in motion by choices we make along the way.
"MEMPHIS is a Masterpiece!" exclaimed BroadwayWorld.com.
Divas this is one hot ticket. MEMPHIS is a soulful musical celebration of courage and determination that should not be missed!
Sneak Peak Preview – Click Here
Jacksonville Show Dates: March 18-23, 2014
Location: Times-Union Center's Moran Theater; Jacksonville, Florida
For more information and tickets, visit the Artist Series Website.

Other select city 2014 tour dates:
Erie, PA /Warner Theatre:  March 30
Fort Collins, CO/Lincoln Center: April 1-6
Fresno, CA/Saroyan: May 14-15
Salt Lake City, UT/Capitol Theatre: May 27-June 1
Albuquerque, NM/ Popejoy Hall Theater: June 5-8
For the full tour schedule, visit the official Memphis the Musical Tour Website.
Photos Courtesy of Jeremy Daniel.