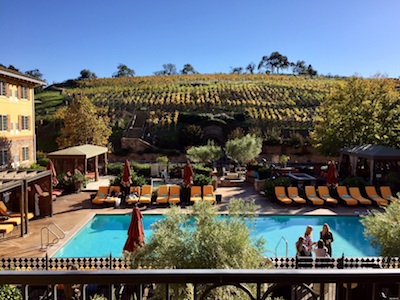 By: Laurie Jo Miller Farr
While the grape vines are settling in for a few months' rest, Downtown Napa is definitely not. Napa's vibrant downtown scene is hidden in plain sight in one of the world's best wine regions. All you need is 48 hours, a girlfriend or two, sunglasses for day and a warm wrap for evening, plus a big appetite for fun, adventure and fantastic food, wine…and even craft beer.
The Napa Backstory
Start at Vermeil Wines owned by NFL Super Bowl winning coach Dick Vermeil. We had a personal welcome from the (female!) mayor, which was just too cool for school. Eleven years in the job and running for re-election unopposed, Mayor Jill Techel has seen Napa transformed to a city of 80,000. She points out that re-routing the river to create nature wetlands and re-building after an earthquake has a way of cementing people as well as things.
No kidding, everybody here seems to know — and genuinely like — each other.
Forget the car; take a stroll along historic Riverside Park or follow a section of the new Napa Valley Vine Trail on a bike. The river cuts a swathe through the middle of historic downtown that at times resembles the Seine more than Northern California.
Oxbow Public Market Love
Oysters, anyone? Or cupcakes, cappuccino, chocolates, and ice cream…Oxbow Public Market is first stop for one of Downtown Napa's biggest draws and it's chock full of completely impossible choices.
Before you even step inside, check out Oxbow's newest — and exceedingly stylish — wine tasting room, CRU @ the Annex. Napa's Vineyard 29 wines are poured at the indoor/outdoor space that's so comfortably and meticulously decorated you won't want to leave.
Fieldwork Brewing Company of Berkeley, Calif. is the new taproom, where we pulled up stools to sample an impressive presentation of a rotating selection of craft beers accompanied by captivating tasting notes. (Put together your own beer flight at $12; it's a steal.)
Ca' Momi can provide a quick takeaway service of organic flatbread sandwiches, best tasting ones this side of Bologna, for a picnic lunch on your bike.
Next Door to Oxbow
CIA at COPIA may look like some random government acronym, but any chef or sommelier could tell you it's actually about the Culinary Institute of America and the late, great Napa winemaker, Robert Mondavi. Culinary and wine education classes are held here, and a retail lifestyle shop plus an exciting CIA restaurant were newly opened in November 2016.
Beyond Oxbow
Head for Whetstone Cellars, an easy 4-mile cycle to reach an impossibly pretty, authentic 19th century French-style stone château, where lawn tables and umbrellas are surrounded by ancient oak and cedar trees. It's tough to pull yourself away from this corner of paradise where Ace, the endearing 3-year-old Labrador is patiently waiting to be stroked.
The thing is, there's this simply amazing art gallery and working studio just four blocks away: Gordon Heuthner Studio. When Gordon is in residence, he'll offer you a personal tour of his large scale public installation projects in progress, a must-do for art lovers and an eye opener for everyone. Check out the models for outdoor art at COPIA, where Gordon is designing a tribute as larger-than-life statues of Robert and Margrit Mondavi for the building's tower.
Eat and Drink Here Now
Whimsical: On Main Street, Napa Palisades Saloon presents your four-beer tasting selection in glasses nestled in a vintage muffin tin. Careful…the beer is filling and the menu doesn't hint at the size of the generous portions coming from the kitchen.
Smashing: At Crush Ultra Lounge at The Meritage Resort and Spa, place your drink order at the alley while you lace up your bowling shoes. A lively sports bar with big screens and a pool table attracts the locals, too.
Chilled Out: Take a seat beside the fire pit on the patio at Basalt on an imposing downtown riverfront corner. We say yes to craft cocktails during the weekend happy hour, from 2:30 to 6:30 p.m.
Celebrations: For birthdays, engagement parties, baby showers, and special celebrations, head straight for Celadon, the gorgeous dining space, a local favorite, near the riverfront. Exposed brick walls and a central fireplace under a signature chandelier add just the right touch to the outstanding food and service.
Sleek and Sexy: Paneled walls at The Corner are lined with 4,500 bottles of wines from the owner's collection and they're not just for decoration. The leather-bound wine menu runs to 26 pages and $50,000 will get you a 1999 Domaine de la Romanée-Conti. If you come for after dinner drinks and dessert, order The Dark Horse, a white chocolate bread pudding with mixed berries.
Where to Stay
Not afraid of ghosts? Check in to Napa River Inn, the historic hotel in the heart of Downtown Napa on the site of the Hatt Mill Building dating back to 1885. Stories about Hatt family members, long departed, are still heard. Be tempted by a complimentary breakfast in bed, featuring scrumptious sticky buns and more freshly baked items from the ovens at Sweetie Pies Bakery next door to this Historic Hotels of America property.
Looking for a contemporary swimming pool and spa? The Napa Valley Marriott Hotel & Spa has just had a marvelous makeover. No wonder the totally fit Oakland Raiders head here for summer training every single year. Eat healthy as well, from produce straight from chef's own culinary garden.
Love the Mediterranean touch? Just one look at the sublime vineyards, underground luxury Spa Terra, and Estate Cave on the grounds of The Meritage Resort and Spa, and you're virtually in Italy without boarding a flight. Book a premier room to enjoy your private balcony overlooking the spectacular pool and nine acres of vine-covered hills. Vineyard tours, Trinitas Cellars wine tastings with artisan chocolates, poolside cocktails and bites, and even the fun of the Crush Ultra Lounge bowling alley are within steps.
Explore and enjoy Downtown Napa!