Houston—oil and gas metropolis, congested, industrial, commercial. Sound about right? Wrong. This is a city pulsing with life, color, diversity, culture, history, and beauty. It is a place rich with the cultural advantages befitting one of the largest cities in America. In fact, Houston, the fourth largest city in America, was ranked as number one on Forbes' List of America's Coolest Cities.
Houston boasts excellence and diversity in its wide array of attractions, from a performing arts center of worldwide acclaim to an abundance of parks, hiking, and biking trails, to quaint bistros and Zagat-rated fine dining, haute shopping centers and unique boutiques, state-of-the-art stadiums and sports teams for every fan, dramatic urban architecture, a diverse calendar filled with year-long festivals and events, and so much more. This is a Mecca for the culturally-savvy young professional, and one not to be too quickly bypassed. Give Houston a second look. There's more than first meets the eye.
This is a city with something to offer everyone, so whether you're a theater aficionado, a culinary gastronome, a sports fanatic, a museum frequenter, an outdoor enthusiast, a culture explorer , or simply seeking the vivacity of life that only comes from a thriving metropolis, then look no further—Houston has it all!
If the performing arts take your fancy then a trip to Downtown Houston's Theater District will not leave you wanting (anything more than an encore). Get caught up in the drama of the thespians at the Alley Theatre, be enchanted by the beauty and grace of the dancers at the Houston Ballet, soak in the melody of the musicians at the Houston Symphony, and be transported by the arias of the vocalists at the Houston Grand Opera.
There is no better place for a foodie to be than in an urban center full of both renowned and up-and-coming chefs striving to push the culinary envelope to new heights. Houston's culinary scene has something to suit every palate with 8,000 restaurants featuring cuisine from more than 35 countries. From avant-garde to traditional comfort food, Houston is filled with gourmet gems, some with a long-standing history and others that you simply stumble upon. Houston's restaurants promise to excite, tantalize, and delight your taste buds.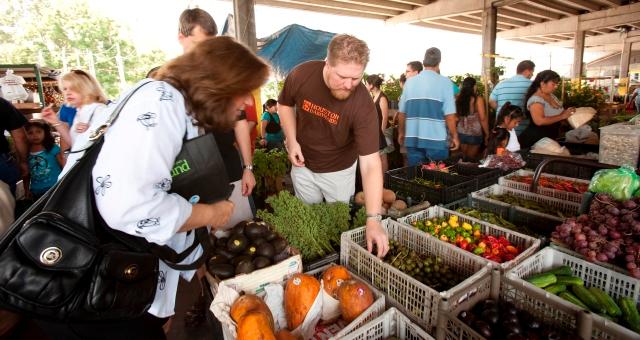 To bring the gourmet experience to your own home, spend a Saturday morning at one of Houston's famous Farmers Markets. Peruse through the stalls and fill your baskets with succulent ripe berries, crisp homegrown vegetables, artisan hand-crafted breads, farm raised eggs, lively aromatic herbs, piquant gourmet cheeses, decadent tempting confections, intriguing international delicacies, and why not add a bouquet of vibrant fresh flowers! Experience the old-world delights of meandering through the artisans' stalls selecting carefully grown, local fare, get caught up in the excitement of live music and culinary demonstrations, explore your playful side with face painting, and bask in the serenity of the free yoga sessions.
If fashion is your forte then Houston's upscale malls, shopping centers, and boutiques are sure to impress. The Galleria combines stunning architecture, a diverse selection of stores, casual, trendy, and fine dining, A-list events, and even an ice rink! Located near leafy Rice University, Rice Village offers shoppers a mix of small, eclectic shops, high-end clothing stores, and larger retail stores. There is a relaxed and inviting vibe that surrounds this quaint shopping district. Filled with an excellent collection of shops, salons, cafés, and bars, Rice Village is an area to enjoy the leisurely side of Houston life and culture. And for those living a little further out of the city, Houston's City Centre is a community in and of itself—featuring fine dining, luxury living, haute shopping, and calendar of events that includes art and farmers markets, live music, and much more!
For sports fanatics, Houston is home to numerous sports teams, including NFL football team, the Houston Texans, NBA basketball team, the Houston Rockets, Major League baseball team, the Houston Astros, MLS soccer team, the Houston Dynamo, and AHL hockey team, the Houston Aeros. With spectacular stadiums, such as Reliant Park, the Toyota Center, Minute Maid Park, and BBVA Compass Stadium, fans can enjoy watching their favorite teams in state-of-the art arenas. The fervor that Houston sports fans exude is contagious and the energy that fills the city during every sporting season is tangible.
One of the major perks of metropolitan lifestyle is the opportunity to experience the beauty, culture, and history housed in museums, and Houston's Museum District is rich in each of these aspects. For a museumophile, being able to spend hours taking in the brushstrokes of a Pre-Raphaelite painting, the curves of a Renaissance sculpture, the poignancy of a WWII relic, or the wonder of a geological formation is an experience that fills the inner desire to discover the mysteries of this world.  The Museum of Fine Arts, Houston ranks among the top ten art museums in the nation and is home to more than 64,000 works of art. Houston's Museum District offers its visitors a space to escape from the demands of everyday life and bask in the enriching experience of culture.
Another wonderful facet about Houston is its proximity to many great weekend getaway destinations. Kemah, situated on Galveston Bay, is just 25 minutes south of Houston and offers visitors a wealth of activities from the rides and amusements at Kemah Boardwalk to water sports, shopping, and dining. Whether your idea of waterfront fun involves spending the day relaxing on a sailboat out on the bay, experiencing the thrills of boardwalk roller coasters, or shopping in boutiques and enjoying freshly caught seafood, this fun-filled city has something to offer everyone.
The Texas coastline is just 40 minutes away for those seeking the sun and the sand. Historic Galveston Island exudes a nostalgic vibe of trips to the seaside in the station wagon, walking barefoot along the beach eating salt water taffy, and splashing in the warm coastal waters. This charming island offers not only beachfront beauty, but also a picturesque town center with stunning Victorian architecture. Texas' coastal gem boasts sandy beaches, gourmet restaurants, luxury resort hotels, a thriving entertainment district, and an array of shopping including boutiques, antiques, and art galleries. Offering activities for kids and adults alike, Galveston's seaside adventures are sure to make an impression on all who visit.
Texas' capital city, Austin, where live music, charisma, and a unique laid-back vibe abound is less than three hours away. The beauty of the Texas Hill Country boasts lush greenery, hilly topography, streams, lakes, and springs. There is a buzz about Austin that is unlike anywhere else—it is a city rich in culture, from its stunning landscape, to its funky, eclectic shops, to its vibrant culinary scene, and of course its year-long calendar of incredible festivals. This city is a destination that offers something new and exciting with each visit and promises to always keep you coming back for more.
Does the call of the outdoors speak to you? Houston offers 350 city parks and more than 200 open spaces covering nearly 39,000 acres. Discovery Green, a twelve-acre park in downtown Houston, offers Houstonians a unique space in which they can enjoy the pleasures of the outdoors against the backdrop of the Houston skyline. The park features a one-acre lake, children's playground, an amphitheater, dog runs, artworks, open lawns and top-rated restaurants. More than just a beautiful green space, the park breathes life into the center of downtown Houston. With a year-long calendar of events, Discovery Green hosts an array of music, theater, film, and dance performances, exercise classes, children's events, and an urban flea market sure to delight at every season.
Picturesque Hermann Park, with its fountains, statues, monuments, ponds, and gardens transports visitors out of the hustle and bustle of the city. Walking trails, pedal boating, fishing, and train rides on the park's own railroad are just a few of the many activities to partake in while visiting Hermann Park. It is the perfect location for spring picnics, summer bar-b-ques, autumn strolls, and winter concerts. Situated in the heart of the Museum District and with nearby Houston Zoo, Hermann Park is at the cultural epicenter of the city.
If you crave the calm and tranquility that only comes with hues of vert, then exploring the numerous verdant retreats dotted around the city will satiate those nature-loving taste buds. This urban oasis offers the perfect blend of metropolitan buzz and rural escape sure to excite the heart and soothe the soul.
Houston. Cultural mecca. Fashion hot spot. Culinary capitol. Entertainment hub. Sports center. Urban oasis. This city has definitely earned its ranking as the "Number One Coolest City in America." With an energy, vibrancy, history, culture, liveliness, and flavor to rival any other urban city, Houston truly is a thriving metropolis with much to offer. Explore Houston and discover all the wonderful features that make it such an exciting city to live in.