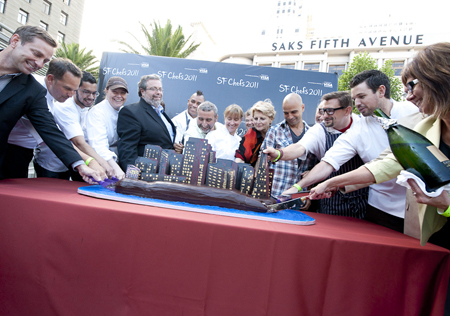 SF Chefs can easily be considered the culinary equivalent of the Olympics, with all the anticipation, excitement and hoopla of London's festivus the other night, except even better because this gala is all about food and drink and You DO NOT want to miss this opening night.
A food lovers paradise, the historic Union Square is filled with mouthwatering tastes from the city's hottest restaurants, innovative handcrafted cocktails prepared by top mixologists and premier wines and beers from an exhilarating collection of wineries and breweries. Entertainment by Joey Altman & the Soul Peppers.
VIP Ticket includes access to Opening Ceremony and first tastes in the Grand Tasting Tent at 6:00PM.
Featured Chefs & Restaurants & Presentators
• Pasture & Comfort – Jason Alley
• Calafia – Charlie Ayers
• Baker & Banker – Lori Baker
• Baker & Banker – Jeff Banker
• Ecopia Farms – Stephen Beaumier
• Scala's Bistro – Jennifer Biesty
• Epic Roasthouse – Jan Birnbaum
• Absinthe Brasserie & Bar, Boxing Room – Bill Corbett
• Boccalone, Incanto – Chris Cosentino
• Luella – Ben DeVries
• Twenty Five Lusk – Matthew Dolan
• Tacolicious – Antelmo Faria
• El Paseo, Wayfare Tavern – Tyler Florence
• Roam Artisan Burgers – Lynn Gorfinkle
• Delfina – Brian Gremillion
• The Beach Chalet & Park Chalet – Jordan Grosser
• Kuleto's – Robert Helstrom
• Cupola Pizzeria – Christian Hermsdorf
• CHAYA – Yuko Kajino
• Delise Dessert Café – Dennis Leung
• Waterbar – Emily Luchetti
• Central Kitchen – Thomas McNaughton
• Dosa – Anjan Mitra
• Firewood Cafe – Chris Portuguez
• Marlowe, Park Tavern – Jennifer Puccio
• La Boulange du Dome – Pascal Rigo
• San Francisco Soup Company – Steve Sarver
• Parallel 37, Ritz Carlton San Francisco – Ron Siegel
• Delfina, Locanda, Pizzeria Delfina – Craig Stoll
• A16 – Chris Thompson
• Waterbar – Parke Ulrich
________________________________________
Featured Bartenders & Bars, Winemakers & Sommeliers, Distillers & Brewers
• Jasper's Corner Tap & Kitchen – Kevin Diedrich
• Elixir – H. Joseph Ehrmann
• Ananas – Reza Esmalli
• Rye – Jon Gasparini
• Cantina – Duggan McDonnell
• Urban Tavern – Anthony Santiago
• LUPEC – LUPEC SF
• Otis – Phil Shell
• 15 Romolo – Aaron Gregory Smith
Featured Wines, Beers & Spirits:
Anchor Brewing Company, Anchor Distilling, Beefeater Gin and Plymouth Gin, Beringer, Bonterra Vineyards & Fetzer Vineyards , Campari America, Domaine de Canton, Empson USA Inc., Four Roses Bourbon, Hendrick's Gin and Solerno Blood Orange Liqueur, Livermore Valley Wine Country: McGrail Vineyards and Winery, Mitchell Katz Wintery, Nottingham Cellars, Rios Lovell, La Rochelle Winery, The Steven Kent Winery, Matua, Zaya Rum, Wente Vineyards, Concannon Vineyard/Darcie Kent Vineyards, Garre Vineyard, Louis Latour, Pisco Portón, Rhône Valley Wines, SF Brewers Guild, Stella Artois, Sterling Vineyards, TastingRoom.com, Templeton Rye, Trumer Pils, Wente Family Estates, Wines of Portugal, Zaya Gran Reserva Rum
________________________________________
VIP Grand Tasting Tent Weekend Pass
It's a foodie's fantasy and you won't miss a bite. Enjoy all four Grand Tastings in VIP Style. Plus, have access to one of the festival's hottest parties, the Saturday Night After Party, presented by Campari America.
Visa Signature VIP Weekend Pass: $480
General Admission VIP Weekend Pass: $600
Buy Package
To access discounted package, simply enter the first six digits of your Visa Signature card number as your promo code.
Check the SF Chefs Website for the latest schedule and
ticket availability!
Must be 21 or over to attend. Advanced ticket purchase required.