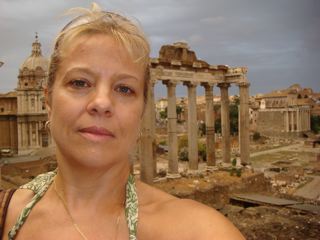 A BIG Congratulations goes out to Jennifer Bryce! Not only is she the winner of Tango Diva-Birkenstock "Madrid" sandal giveaway—she also has a brand new jazz album out available on iTunes and Amazon.com
Jennifer's winning entry: Roma! Last summer I walked around Rome during Ferie Agosto (August Holiday – the Italian equivalent of Labor Day weekend) wearing cute flat sandals. By the end of the day walking the Forum, the Pantheon and at night seeing the Lunar Eclipse above the Trevi Fountain – my feet were toast. If instead I had worn a pair of "Roma's" I would have been in good shape. My Roma's would have leather lattice work (criss-crossed woven pieces for the strap) in Cream (also be available in Red, White and Green (the Italian Flag colors). On the end of each strap would be a little rhinestone or charm because the Italians love a little flash in their decoration. "The Roma" would be the next-gen Birkenstock Italian style!
Many thanks to all who participated and Birkenstock for making this possible. Stay tuned for our next Tango Diva giveaway!