There's plenty of weekend family fun to be had at Elkhart Lake, with fantastic fall events lined up at this Midwest destination in the heart of Wisconsin's Kettle Moraine State Forest, that's home to the Road America racetrack. Elkhart Lake is both breathtaking and easy to reach – only an hour's drive from Milwaukee and two-and-a-half hours from Chicago.
The resort destination has a rich history; once upon a time, races were held along the village roads, and the public road race circuits from the 1950s are a preserved today as a National Place to tour, whether in your own car or on foot or bike. Actual races are now held at Road America, where you can also take racing lessons in cars or motorcycles, and test your skills on the high-powered go-kart track. Many of the hotels and bed-and-breakfast inns are historic, once home to fashionable travelers enjoying the prosperity of the Gilded Age of the late 1800s and early 20th century. Once the railroad came to Elkhart Lake, so did the business barons and their families who poured into the region as a waterside country holiday destination.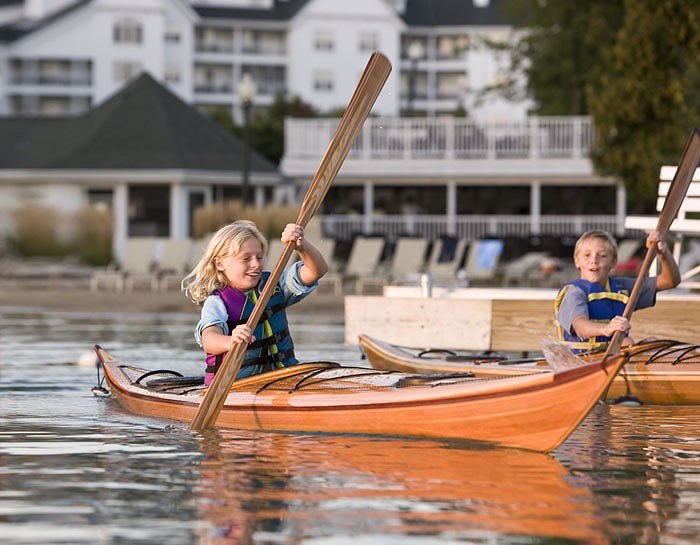 In fact, although relatively small, the lake itself is a major draw. The original inhabitants, the Potawatomi Indians, believed the waters to have curative and rejuvenating powers; and today Elkhart Lake is one of the cleanest lakes in Wisconsin, as well as the fourth deepest. Water sports are popular, from swimming and boating to recreational rentals such as kayaks and pontoon cruises; and the Marsh Park and wildlife area is a recreational haven for outdoor enthusiasts. The vast park attracts hunters, fishermen, and wildlife/nature observers; most of the park remains a wilderness, but a 30 acre section of the park is developed and is open year around. Campsites, a party/meeting facility, a boat launch, fishing piers, playground and picnic areas are all available and perfect for a day of family fun.
For a relaxing or adventurous getaway, check out what is coming up at Elkhart Lake to create your perfect itinerary:
Road America
This Friday, September 28, you can drive the world-renowned four mile Road America racetrack in your own vehicle under closed circuit conditions, as part of the Sunset/Fall Color Cruise. The cost is only $20 per vehicle, and limited space is available. Call 800-365-7223 to reserve your spot.
Dining and Shopping
Fast becoming a culinary destination, you will be pleased with Elkhart Lake's fine restaurants, exceptional chefs and expansive wine lists. The resorts themselves offer incredible dining experiences; check out Lola's on the Lake at The Ostoff Resort, with its eclectic menu created by an award-winning culinary team. There is also an extensive wine list, and many of the ingredients come from The Ostoff's own organic garden.
"We really started to evolve how we feel about food, and how we feed our guests," says Lola Roeh, General Manager of The Ostoff (and namesake for the restaurant). "We're taking sustainability very seriously; but that's the way it used to be for this area. The farms around here produced most all the food for the community and the resorts, and that's what we are trying to embrace today."
Other top Elkhart Lake restaurants to try are the Back Porch Bistro at Victorian Village Resort, Lake Street Cafe with its California bistro-style creations, and the Paddock Club, which combines seasonal ingredients with European culinary traditions and is a recipient of Wine Spectator's Award of Excellence. When the shopping urge strikes, the charming village at Elkhart Lake is full of art galleries and studios, antique and vintage shops, and gift boutiques.
Cooking Classes
L'ecole de la Maison, the cooking school at The Osthoff Resort, holds a cooking class every Friday and Saturday. You'll find classes from European Brunch to Provencal Cuisine – and everything in between! Each class provides a unique, hands-on experience with Chef Scott Baker, a graduate of the Culinary Institute of America. Baker's cooking experience started early, when he would open up a few cookbooks to see what everyone else was doing with a dish – and then he would get creative to make it his own.
"Like writing music, once you know all the chords you can make your own song," Baker says. He adds that the most vital aspect to becoming a good cook is to know food on a deep, personal level. "You have to eat well, and eat often."

Connect with History

The last weekend of September history buffs can catch the 22nd Annual Civil War Weekend. Two full days of Civil War drama unfold in the largest Civil War re-enactment and encampment in Wisconsin. This year will commemorate the sesquicentennial of the Civil War. A full schedule of activities extends from 9 am to 5 pm both days, with two authentic battles re-enacted each day. The event is held at the Wade House Historic Site, which is also the location for many other events including hearthside dinners, earth-to-table demonstrations and an autumn celebration.
Fall/Halloween Events

In October The Osthoff Resort will hose the Harvest Moon Ball, a spectacular weekend of dancing, music and fine dining dedicated to the legendary sounds of the Big Band era. And families shouldn't miss the Pumpkin Patch Family Event on October 6 & 7, at Henschel's Indian Museum and Trout Farm. $5 admission for adults and $3 for children includes Indian Museum Tours, Scenic Hayrides to Effigy Mounds, Play in the Puzzling Corn Field, Apple Cider and Caramel Apples, and Trout Fishing.
Farmers & Artisan Markets
Every Saturday morning from June through mid-October, the popular and ever-growing Elkhart Lake Farmers & Artisans Market is held in the village square next to the Historic Railroad Depot.

Relax at the Spa

At any time of year, The Aspira Spa at The Ostoff Resort is quite literally a world within itself. It offers not only amazing spa treatments but also yoga and meditation classes, along with a beautiful meditation room. Private spa suites, including a Turkish hammam room, are designed to complement nature, taking in the tranquility, beauty and energy of the lake. Packages and a la carte services are available, and it's easy to get lost in body and spirit here.
For more information about Elkhart Lake, visit the visitors information website. Travel Wisconsin provides a Fall Color Report which contains weekly updates from counties and communities – including Elkhart Lake.