Last Thursday I had one of the best dinners I've had all year. I can't give you the name of the restaurant, not because I'm being mean but because it wasn't at "a" restaurant. It was provided by a whole bunch of eateries. I was lucky enough to be invited to the press preview of the 4th annual SF Street Food Festival and all I can tell you is that if you consider yourself any sort of foodie/gourmand/chef or just enjoy pigging-out on some of the best food this food-obsessed city has to offer, then you'd better mark your calendars for this incredible culinary extravaganza.
La Cocina is hosting the SF Street Food Festival for the 4th time. This year's event offer a bigger than ever variety (we're talking over 80 vendors and counting so better wear stretchy pants!) of food bites from Russia to Ethiopia and everywhere in between. Many of the vendors are graduates from La Cocina's incubator program. La Cocina works with low-income and immigrant entrepreneurs and created this popular festival to showcase these hardworking, talented women and their scrumptious food.
Not only did I have the opportunity to taste some exciting new dishes, but it was equally as exciting to talk to these industrious women and learn about their hopes, dreams and (through the help of La Cocina) their accomplishments.
Just a few of the many scrumptious treats you'll want to save room for:
El Buen Comer– Isabello Caudillo's creamy home-styled corn with a little spice kick and crunchy banana chips.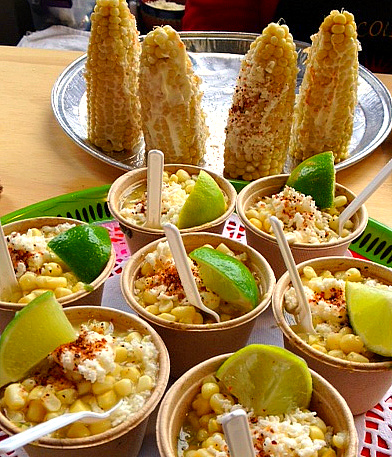 Osha Thai– what started as one small restaurant in the Tenderloin in 1996 has since exploded into a beloved 6-pack of family owned restaurants. I'm drooling over their silken curried pumpkin over brown rice.
Jarred– one of the most unique tastes was provided by Emilana Puyana, who hails from Venezuela, with her pickled green tomato croquettes breaded in chicharróns.

Kika's Treats– Cristina Arantes' Brazilian hot cheese puffs, anointed with tomato jam, provide a tasty treat for anyone on a Gluten-free diet or anyone who just wants a delish snack
Minnie Bell's Soul Movement– perhaps my fave bite of the evening was Fernay McPherson's cup of gumbo. I don't know how this local San Francisco girl managed to infuse this dish with such deeply soulful flavor yet nary a trace of fat.
Festival Details:
The Festival will take place on August 18th, 2012 from 11 a.m until 7p.m.
It will be held in the Mission District on Folsom St. from 20th to 26th, 21st and 25th from Treat St. to Shotwell St., as well as the Cesar Chavez Elementary School parking lot, Parque de los Ninos Unidos and Jose Coronada Playground.
For more information visit the Festival website.
Buy your passport tickets here.
More about La Cocina:
La Cocina is a non-profit incubator kitchen that provides affordable commercial kitchen space and industry-specific technical assistance to low-income and immigrant entrepreneurs who are launching, growing and formalizing food businesses.
La Cocina was born out of the entrepreneurial spirit of women vendors in San Francisco's Mission District who launched businesses out of their homes, on the streets and wherever they could find the spaces to do it. Beginning in 2005, La Cocina advocated for progressive city policies that would allow these incredibly talented chefs to formally bring their products to the marketplace. This festival is a celebration of the taste, the heart and the commitment of our vendors, the small business owners in San Francisco who have supported a community of eaters that believe in this kind of food and the food trucks, carts, trailers and informal entrepreneurs that continue to make this city the best food city in the world.
Be sure and check out their website for other interesting culinary events, cooking classes and business workshops.
http://www.lacocinasf.org/