For the environmentalist
We're keen on being green! It seems like everyone is these days, which is definitely a good thing. Show off your environmental flare with this one-of-a-kind upcycled leather passport case from Poketo. Each one is unique in color and texture. You simply choose your preferred color palette and wait for the surprise to come in the mail.
Upcycled leather passport case
100% upcycled from leather, handmade, one of a kind.
4? x 5.75″ (101.6 cm x 146.1 mm) folded.
$52
Available at the Poketo website.
For the Whimsical
Have a little fun and outfit your passport in bread and butter. Because a little whimsy has the potential for amusement in a long security line.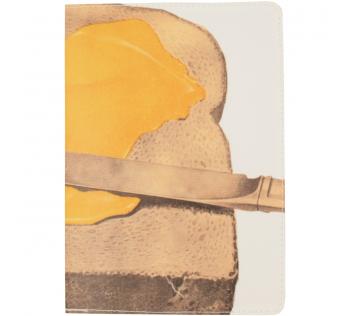 Bread and Butter Passport Cover
Passport Cover with retro image of bread being buttered, by 11:11.
Interior features transparent windows, where passport slides in, always having your photo showing.
Handmade from laminated paper.
3.75in X 5.25in
$18
Available online at the Flight 001 website.
For the Fashionista
Fashionable, fabulous and fool-proof, this water-resistant passport holder is chicly unique. What a perfect treat!
Mexican Oil Cloth Passport Holder
Water-resistant Mexican Oil Cloth Passport Holder.
Dimensions: 5.5″ by 4.0″
$16
Available at the Lama website.
For the Literati
Because the world should know how seriously you take literature. Especially how seriously you take Jack Kerouac.
Classic Penguin Book Passport Cover – On The Road
Faux Leather Cover
Measures: 14cm x 10cm
Comes Boxed
£14.99
Available at the Gifted Penguin website.
For the Road Trip Junkie
Crossing borders in style or trekking along the Nile, keep everything safe and secure in style.
Decades of Destinations Passport Cover in Highways
Recycled vinyl.
Wallet measures 5.25 inches in length, 3.75 inches in width.
Handmade. Interior slots for securing passport.
Made in the United States
$18.99
Available at ModCloth.
And for the cost concise – catch it on last call at Nieman Marcus