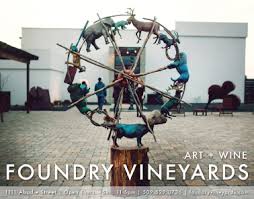 After reading numerous rave reviews about Walla Walla's exploding wine industry and it's revitalized downtown area, it sounded like Napa had finally met it's match. One article I read quoted the proud residents of Walla Walla as saying, "It's a town so nice, they named it twice." I recently spent a few days there and while I did enjoy some great wines, and a lovely dinner at Creek Town Cafe, what really popped my cork was discovering "Foundry Foundry."
I don't know why more people don't know about this winning combination, but I expect that will soon change when they unveil the Foundry Vineyards 2006 Artisan Blend Wine…but I'm getting ahead of myself here. Let me explain:
While doing some research for my visit I read one short comment about a Walla Walla Foundry in some obscure travel site. It sounded like some sort of artist colony. I set off to find it but no success. I must have stopped and asked about 20 locals if they had heard of it, but no one had a clue. So I drove back into Walla Walla and stopped at the tourism center for directions. The woman on duty had never been to it either, but told me she thought it was some kind of "artist boutique" where I could pick up some nice gifts, (WRONG!) She did manage to find it on a map and gave me some very convoluted directions. Undaunted, I set off again and drove up and down one dusty back street after another. Totally lost, I pulled up to some huge warehouse building where I hopelessly asked some guy hanging around outside for directions. He thumbed behind him, and as I turned the corner I ran nose to nose into a huge Deborah Butterfield horse scupture! This "artist boutique" turned out to be an internationally prominent contemporary bronze casting facility, where world renowned artists such as Jim Dine, Deborah Butterfield, Lynda Benglis, Squire Broel, Tom Otterness, Bob Arneson employ the talented craftsmen at the Walla Walla Foundry to cast their works of art.
Owner Mark Anderson, after graduating from Walla Walla's Whitman College, opened the Walla Walla Foundry in 1980 wanting to provide casting services for himself and a few local artists…little did he know if "He Builds It Contemporary Artists Will Come"–from all corners of the earth. Ten years later, he opened a gallery in Walla Walla to share these incredible works of art with the public. In 1998, Anderson took his artistic skills to the next level and started a three-acre vineyard and launched Foundry Vineyards. The 2003 vintage cabernet, with a limited production of 500 cases, is the first wine to be released by the winery.
"I started the Walla Walla Foundry because I love casting contemporary fine art," Anderson said. "Opening the gallery and winery have seemed like natural extensions of the foundry and this idea of creating more than one art form." The Foundry Vineyards motto is "Art takes many forms," which is not only represented in Anderson's quality wines but also in the stunning artwork on their labels. They plan to launch one wine a year (different vintages of cabernet sauvignon) with a label featuring an artist's sculpture that was cast at Walla Walla Art Foundry. The inaugural wine features a cast piece created by artist Jim Dine, who has commissioned the art casting facility to produce his work since 1983.
After spending an exciting hour visiting the Foundry, I drove a few blocks away to the Foundry Vineyards modern, sleek, art-filled tasting room, and while sipping Anderson's succulent 2003 Cab, I got to chatting with Jennifer Nichols, their multi-talented marketing director. She shared an exciting piece of news with me….which of course, I'm going to pass on to you before it hits the big screens.
They have selected their artist for the label of their 2006 Artisan Blend, a highly complex and beautiful wine; both inside and out. Inside the bottle you'll find a elegant wine made of 50% Cabernet Sauvignon, 33% Merlot, and the rest is split between Petit Verdot and Cabernet Franc. This same elegance continues outside since Deborah Butterfield has allowed them to put her "Walla Walla" horse on their label. Even more enticing, (and costly) was when Nichols told me that they have decided to release a VERY limited edition of the same wine available in a gorgeous bottle that will have an etched-on-glass version of Butterfield's horse! I've already reserved my bottle which is why I'm letting the word out. Better reserve yours ASAP.