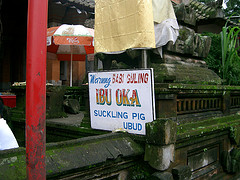 Hours before my most memorable meal of 2007 in Ubud, I had one of the best el-cheapo lunches of all time, too. It was a Bali Bali good food day!
Lunch was at Ibu Oka's Babi Guling, a divey food stall frequented by many local chefs. Don't even think about ordering anything but the Roast Suckling Pig. (Is this where the word succulent comes from?)
Okay, the owner, told me that they go through about four pigs a day – or approximately 400 servings. She would not divulge the secret blend of spices, (maybe she thought I was going to rip her off and rush back home to open up a chain of McSucks.)
The banana leaf plate consisted of a pile of fragrant rice , piled high with tender slices of piggy, a piece of blood sausage, some other unidentifiable internal fried bits and pieces, crowned with a piece of kulit (crispy skin). Sheer perfection when doused with the accompanying sambal –– a saucy blend of chilis, coconut, and spices. Ibu Oka's is located on Jalan Suweta, Ubud. Lunch only, with a line from11-3:00ish or until they run out of pig. ($1-$2.00)
Actually-shhhhhh- I did manage to get a recipe that I think is very close to Ibu Oka's, but I just haven't had time to get out my piggy roasting spit and try it. If you do, please let me know how it turns out.
Here is my recipe for Babi Guling:
1 suckling pig, weighing about 6-8 kg (13-17 lb)
1 1/2 tablespoon salt
10 shallots, peeled and sliced
6 cloves garlic, peeled and chopped
5 cm (2 in) ginger, peeled and chopped
15 candlenuts, chopped
10 cm (4 in) fresh turmeric, peeled and chopped
2 tablespoons coriander seeds, crushed
5 cm (2 in) laos finely chopped
25-30 bird's-eye chillies
10 stalks lemon grass, sliced
1 tablespoon black peppercorns, crushed
1 teaspoon dried shrimp paste, roasted
5 fragrant lime leaves, finely shredded
2 salam leaves
2 1/2 tablespoons oil
4 tablespoons turmeric water