Friday, August 20th, 2010
You've probably heard about gluten-free food, as it is becoming a major issue in the food industry. But unless you have celiac disease, do you really know what all the talk is about? We interviewed Karen Morgan of Blackbird Bakery (based out of Austin), who specializes in the "art of gluten-free cooking," to clarify and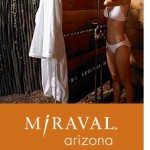 Thursday, April 16th, 2009
Looking for a spa getaway with a fantastic price? Leave the daily drama behind and recharge at Miraval Resort where time is yours alone. Get a grip – on a bicycle handle, a healthy culinary technique… even...
Thursday, July 3rd, 2008
Campfires, sing-alongs, canoe rides, bunk beds– those are so retro. Today's summer camp of choice? A totally bug-free Spa Camp. It's never too early to start learning about the importance of caring for one's body, which is...