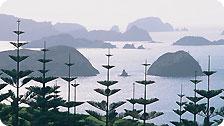 Sunday, December 3rd, 2006
by Andrea Clarke It was a genuine dilemma. My then boyfriend (who shall be referred to through this piece as 'the ex' because, that's what he is…) and I both wanted a short break, but he wanted to play golf and I wanted an exotic massage involving hot stones. (This was surely a sign we
Wednesday, May 31st, 2006
by Alexa Trotta The thought of wading through murky waters surrounded by dark, slimy cave walls didn't impress me at first. In fact most things that involve the word "slimy" don't particularly excite me. So when Matt...
Thursday, May 11th, 2006
by Jaye Beldo During a press conference at the World of Wearable Art (WOW) show, a video camera was pointed at me, one of the journalists there to interview the founder of the highly successful show. "What...