Saturday, June 29th, 2019
Have you ever been to a low budget wedding where they forgo the professional photographer in favor of cell phone paparazzi?  Seems anyone can wave a camera phone around and call themselves an artist. That doesn't make the results worthy of the big screen. Like a Prayer should never have made it past YouTube.  A
Friday, May 6th, 2011
  Not to date myself, but this Diva remembers the classics and disco fever like yesterday. Getting Into the Groove with my MADONNA hair and garb was a ritual…and disco queens like Donna Summer reigned on the dance...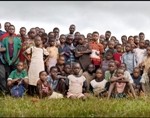 Monday, December 1st, 2008
Today, December 1, marks the 20th anniversary of World AIDS Day, and nations around the world are coming together to bring attention to the HIV/AIDS epidemic. Today is also the day that I AM BECAUSE WE ARE,...