Wednesday, December 5th, 2012
Share the holiday love and celebrate hope and new beginnings by supporting sisters in need around the world. The time is now to lift up the mothers, grandmothers, daughters… and all women struggling to find a safe place in this world free from oppression, poverty and war. These women are Divas Extraordinaire determined to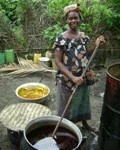 Thursday, November 20th, 2008
Last Christmas, I was trying to think of a good gift for a friend and another friend suggested giving a microloan through Kiva.org. It turned out to be a fantastic idea. What happens is you give between...

Wednesday, July 23rd, 2008
One of the most common travel inconveniences is having to buy another suitcase or duffel while on vacation so that you can schlep all your newfound, exotic goodies home. And nobody wants to bring an extra,...