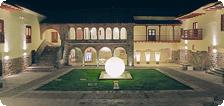 Monday, February 13th, 2012
by Patti Mangan Located just two blocks from Cusco's central Plaza Mayor the Casa Cartegena luxury hotel & spa is a peaceful oasis from the bustling streets and honking taxis. Just paces from the best dining, arts and entertainment the city has to offer, the Hotel Casa Cartegena is a place for personal reflection and
Thursday, January 28th, 2010
Traveling in southern Peru? Cusco and Sacred Valley are flooded and or experiencing mudslides. All trains are canceled from Cusco to Aguas Callientes. Nearly 2,000 from all over the world were stranded in Aguas Calientes and surrounding...
Tuesday, July 8th, 2008
There are only three weeks left to book your dream vacation to Peru- and it comes with snacks! Join A Taste of Peru from October 17 to October 25, 2008, and find out the secrets of traditional...