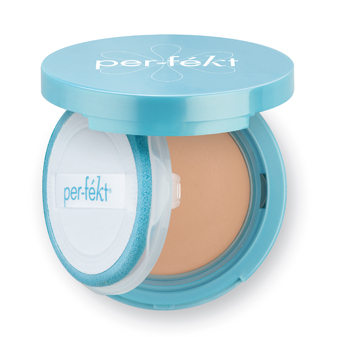 The company tag line says it all – "why look good when you can look per-fékt®?"
Traditional foundations, powders and primers are not a match for the per-fékt® beauty line. The line offers a myriad of multi-functional products that are designed for real world women who simply don't have time for a lengthy beauty ritual but demand long-lasting results.
It is now easier than ever to per-fékt®, protect and color correct without a visit to the dermatologist office!
A favorite winning product pair: the perfékt®skin perfection gel and the perfékt® skin perfection CC créme.
Each product on its own delivers a flawless airbrush look while toning and hydrating the skin. I like to have the combo always close at hand – double-duty diligence – to keep me looking fresh 24/7.
The per-fékt®skin perfection gel is a fast-drying gel-mousse formula, that pampers and primes the skin without streaking. Infused with sheer color pigments and antioxidants like Alpha Lipoic Acid, Vitamins A and E, the gel evens out skin tone and deeply penetrates skin cells to repair and prevent future damage. Fine lines are diminished, enlarged pores are minimized, blotchy spots and redness are magically eradicated. The gel offers truly buildable coverage. Apply 1 layer or more depending on individual coverage needs. Skin is left silky-soft and transformed into a smooth matte palette ready for artistic makeup musings.
Use it alone or pair it with per-fékt® beauty's new skin perfection CC créme for a red carpet ready aka photoshop celebrity look. Packaged in a purse-friendly compact, the crème offers portable super powers. Color correction, coverage and comprehensive SPF 30 sun protection all- in-one for the on-the-go gal!
Ingredients:
Hyaluronic Microspheres work to hydrate the skin and soften the appearance of fine lines and wrinkles.
Vitamin C and E help to even out skin tone and protect the skin against free radical damage.
Aloe moisturizes and heals damaged skin.
4 Shades:
Luminous (light/fair skin tones); Radiant( beige/medium skin tones); Rich (tan/olive & dark skin tones) ; Decadent (deep mahogany/African-American skin tones)
per-fékt® is free of synthetic fragrances, dyes, wax, talc, mineral oils and parabens.
Product Pricing:
perfection gel: $48 (1 FL.OZ./ 30 ml)
perfection CC créme :$42 (.39 FL.OZ./11.6 ml)
For a complete product overview, where to buy information and tutorial videos, visit  per-fékt® beauty online.