Road Trip Report:
The lure of the most coveted fish, the elusive chubs, is for a limited time being fished again. I saw many stores selling in the Michigan Upper Peninsula, as well as mainstream grocery stores in Northern Wisconsin. Amazing. Tango Diva will continue to report on any and all sightings.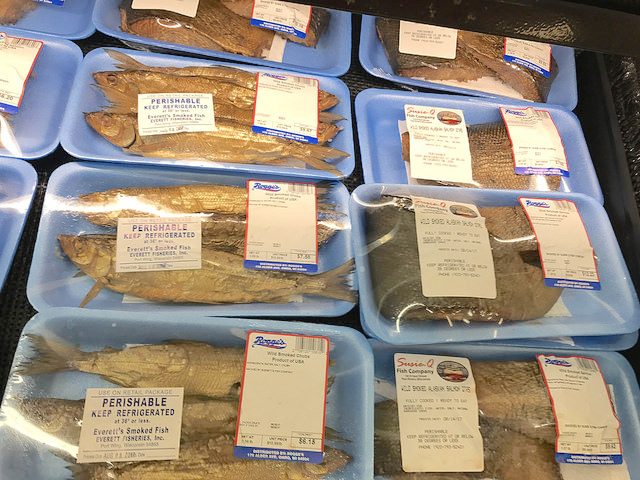 .
Proof that chubs were widely available at Rogge's in Omro, Wisconsin
Typical home-made sign advertising Michigan, upper peninsula smoked fish, jerky and curds, all local delicacies. Yes, they had Chubs.
There have been several reports about Chubs sightings. Many thanks to Bearcats for staying in touch. We here at Tango Diva are considering the fish import biz.
Bearcats Fish House
295 4th St
Algoma, WI 54201
Chubs Hotline (920) 487-2372
bearcatsfish.com
open Mon – Sun 9a-5p
(they should switch to 24 hours/day)
If you are a connoisseur of regional foods, you can share my pain, having spent the last five years schlepping up to Port Washington, WI, eagerly dashing in to Ewig's Fish Market only to be told that once again, the chubs are not being fished. In case you're not from these parts, chubs are fresh water fish from the Great Lakes, specifically Lake Michigan.
THE STORY OF SMOKED CHUBS:
I was first told that chubs just aren't profitable to fish anymore. Then it was "check back in October", followed by "check back in February" in an endless loop of unexplained excuses.
I returned to San Francisco trying to wrap my head around the fact that my most favored childhood treat was extinct.
MARCH IS THE BEST TIME TO FIND CHUBS:
Cue heavenly angelic music! Chubs are not extinct and March is the best time to find them. My father called me to report that he had scored an entire box of chubs for me. Pushing aside thoughts that this was yet another trick to get me to visit in the dead of winter I called AirTran, the only airline to fly direct and non-stop from San Francisco to Milwaukee, thank you very much. Arriving at the airport assuming I would buy an on-board meal I discovered my choices were limited to an open soda bar. Luckily the friendly mid-western culture did me a solid. The steward slipped me an entire 12 pack of pretzels. No never mind, I was off to beat the three-week shelf life of my beloved fish sitting in the parents fridge.
SAVORING THE NEWLY FISHED CHUBS:
Once in Wisconsin I stood on the parent's door step ringing the bell, my first words being … "hi, where are they?" They knew what I meant. Gosh the fish were awfully small, but incredibly delicious, just like I remembered them, best served with farm fresh tomatoes, and crackers. If you want to go all Eastern European gourmet, add a side of raw onions, lots of salt, matzoh, and herring in wine sauce for a tart contrast. Trust me, this is food bliss.
OK, SO WHAT'S THE REAL STORY OF THE MISSING CHUBS?
Another trip to Port Washington was in order. According to the friendly honest guy behind the Ewig's Market counter, the culprits are zebra mussels and the larger quagga mussels that hitch-hike aboard ocean-going ships. These invasive species are eating chub food, the plankton that smaller fish like to eat. The mussels promote clear water by munching on enough green stuff to open up the feeding area to sunlight. Sunlight promotes the growth of killer algae. Scientists have yet to figure out a way to completely control this ecological disaster. But I digress, they are delicious.
GO CHEESE HEADS
Ewig's Market
(yes, they ship)
Port Washington, WI
(great tourist destination
less than an hour north of Milwaukee)
Chubs on YouTube
See what Ewigs looks like inside.