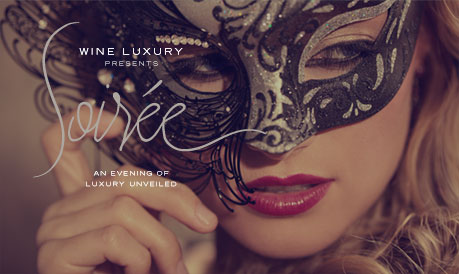 Divas, don on your favorite cocktail dress and get ready for a night of fabulous wines and incredible music. Wine Luxury hosts "Soiree" at the City Club in San Francisco. There, you'll sip wines from superb vintners, view designer fashions, and dance the night away in an evening to benefit Share Our Strength and ACCESS.
That night, they will transform San Francisco's City Club into an ultra-elegant masquerade-inspired wonderland. Eveyone's favorite masked phantom Franc D'Ambrosio will sing a few unforgettable songs for you as you indulge in wines from over 30 top vintners across three floors of this exquisite landmark social club.
Meet designer luminaries Lily Blue, Tuan Tran, Monique Zhang, Swell Attitude, and West Coast Leather who will be revealing some of their dramatic fashion designs curated expressly for Soirée.
Telford's knowledgeable aficionados will guide you through the etiquette and enjoyment of fine cigars, served at a supplement in the Cigar Lounge.
Come prepared to bid on luxury wine and lifestyle auction items, including fashions and art from the designers, an Oracle Racing Team tour, spectacular wines and more, all to benefit Share Our Strength and ACCESS.
You may also purchase space at the Riedel Wine Glass Seminar, where you'll sip superb wines from some of the highest quality and most elegant stemware in the world, and find out what a difference a glass can make. And, you'll get to keep your Vinum glass set!
In addition to the main event, VIP guests will enjoy exclusive, all-night access to select rare wines and Tsar Nicoulai Caviar, Point Reyes Farmstead cheeses, delectables from Trident, plus other premium spirits in the WLX Luxury Lounge. From cult Cabs to other intriguing, hard-to-find pours, these will include a very exciting lineup of wines. Join us in a toast with Master Sommeliers and Anthony Bourdain's co-star Zamir Gotta (yes, that does mean there will be a special vodka in store for this evening).
Soirée promises to be a celebration to remember!
Event Tickets
Main Event: $95
Main Event with Riedel Seminar: $160
VIP including Main Event: $160
VIP including Main Event and Riedel Seminar: $215