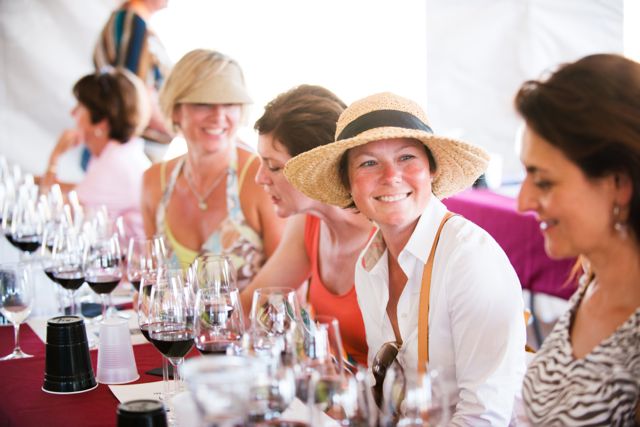 The central coast is celebrating harvest and hosting their annual four-day culinary extravaganza SAVOR. For two of those days the main event is held at the historic Santa Margarita Ranch on September 28 and 29, 2013. The main event will highlight the talents of winemakers, celebrity chefs, brew masters, fishermen, artisanal food producers,
Sunset experts, and many more artisans and producers from Ventura to Santa Barbara to San Luis Obispo to Monterey to Santa Cruz. Along with the main event, there are a bevy of food adventures, private dining experiences, and wine maker events that are available to attend.
Wander the Marketplace and taste from over 100 local wineries, sample small bites dished-up from local restaurateurs, and enjoy vendors showcasing their craft.
Relax in the Estrada Garden with a beer from one of our local breweries, listen to music from the Music Stage. In-depth wine and cooking seminars are offered throughout the weekend and give attendees a deep-dive into a specific varietal or cooking technique. Cost is $25 per seminar with purchase of your main event ticket.
Great Places to Stay and Play:
Cambria Inns: Cambria is great for romance but it's a wonderful place to go with friends because the seaside town is artsy and full of fab shops and restaurants.
Avila Lighthouse Suites: It's across the street from the beach and is in a quaint tucked away town with a fun row of shops and restaurants. It's close to all the action in Pismo Beach.
Madonna Inn: It is a landmark with fun themed rooms and an over-the-top restaurant and bakery plus a spa. It's in San Luis Obispo. They also have great horseback riding adventures and have fun packages year-round.
The Sanitarium Spa: Seven intimate rooms with private baths. Original art in every room. Sun drenched private decks. Darling breakfast pantry. Garden. Art studio. Grand piano. Walking distance to downtown. Massage room.
WHAT: SAVOR 4-day food and wine event on the central coast
WHERE: From Pismo Beach to Santa Cruz