Sport enthusiasts, road warriors and stressed-out over achievers will find soothing comfort in TheraPearl's extensive line of Hot & Cold therapy packs.
It is time to forego the frostbitten bag of peas in the freezer and the bulky heating pad in the closet and opt for comfy relief sans the melting drips and electrical wires.
TheraPearl's patented technology was designed by a doctor with sport injury patients in mind but today the product line has expanded from sports medicine to pilates-yoga studios and spas.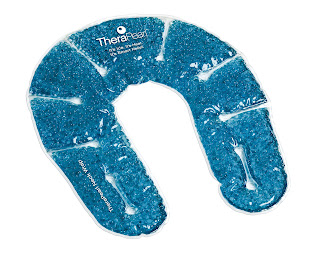 TheraPearl packs are filled with tiny gel droplets that are soft to the touch and are designed and configured to easily conform to the body. Simply heat in the microwave or chill in the freezer. The packs will hold temperature for 20-30 minutes remaining smooth and flexible. No mess, no odor, and no expiration date as with other compress remedies.
A New Degree of Relief
Reusable, Therapeuitc and Latex, Lead & BPA-free!
TheraPearl offers a safe solution to easing away everyday aches and pains.
Available in a variety of shapes and sizes. Knee wraps to facial masks.
Sold online and at select pharmacies, supermarkets and specialty stores.
Retail: $5.99 – $29.99
Kids will love TheraPearl Pals – adorable puppy, panda, piggy and frog designs.
Learn more at www.TheraPearl.com