With its crystal clear blue alpine water and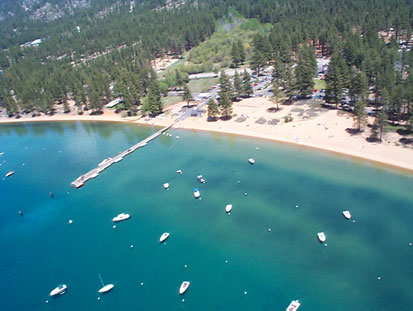 stunning mountain scenery, Lake Tahoe has long been a favorite of travelers for outdoor adventure and lakeside R&R. Zephyr Cove, a beach surrounded by the wooded area of the South Lake Tahoe shoreline, is the perfect getaway for an adventurous summer retreat.
I just jetted off with a group of friend to South Lake Tahoe for an overnight rejuvenation this
past weekend. We spent Saturday afternoon laying on the pebble sand beach of Zephyr Cove soaking up the glorious Vitamin D. After becoming accustomed to the foggy weather of San Francisco, the eighty-five degree heat of Tahoe was like heaven. After a few hours of serious sun baking, we went for a dip in the sparkling blue water. Since the water is snow melt off of the surrounding mountains, it was a bit chilly but we took the plunge and dove in. Once I got over the initial shock of the cold, the water felt amazing.
Zephyr Cove is known for its stretching pebble beaches, but also boasts plenty of picnic tables, restrooms, volleyball courts and a visitors center, complete with a gift shop and concession stand. There are also several restaurants and bars along the water, as well as rental huts that provide parasailing, jet skiing, inner tubes and paddle boats. This beach is the perfect destination for families and travelers of all ages to spend a day, a weekend or an entire vacation.
Tired of laying by the beach? The cove is located a mere ten minutes away from the main city
of South Lake Tahoe that contains hotels, casinos, clubs, bars, restaurants and plenty of shopping. South Lake Tahoe is a prime destination for celebrities as well. During our two day mini-vacation, my friends and I spotted Snoop Dogg, Ice Cube, the members of Rascal Flatts, and the famous golfer, Charles Barkley. With four different concerts and plenty of night time entertainment, we were never at a lose for something to do.
Experience South Lake Tahoe for yourself! This summer at Zephyr Cove Resort, travelers can
save nearly twenty percent while taking in all that Lake Tahoe has to offer with the
Click here for more information on Zephyr Cove Resort or to book a package.