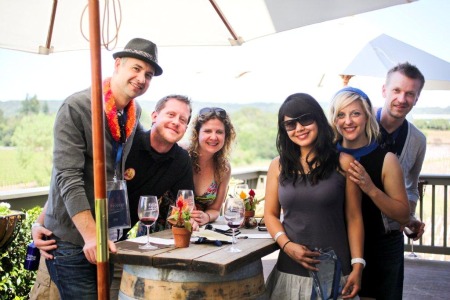 The only thing I love more than wine tasting in Dry Creek Valley (my totally fave California wine area) is doing it during their special Passport to Dry Creek Valley® weekend. And I'm not the only one. The last few years a California girlfriend and I have made this an annual event that we both look forward to all year long, although I swear if she doesn't learn how to read the winery map better I'm going to really lose it. She recently moved to Phoenix so I assumed she wouldn't be joining me this year. WRONG! She just called to tell me she booked her flight and would I pick her up at the airport? Yup, it really is that fun.
Your exclusive Passport gives you entre to 40 wineries sprinkled throughout the gorgeous Dry Creek Valley. Each winery is throwing their own unique party offering exclusive pairing of world-class wines, epicurean treats and superb entertainment. Many pull out all the stops with wild decorations and themes ranging from Alice in Wonderland to an African safari adventures. Attendees will also have the opportunity to speak with the winemakers and vineyard owners on a personal level as well as schmooze with many of the Bay Area's top chefs.
But read my lips..THIS ANNUAL EVENT IS ALWAYS A SELL OUT SO BUY YOUR TICKETS EARLY!
Passport to Dry Creek Valley
Annually Late April
includes a Friday evening, Healdsburg Gallery ArtWalk & Wine Tasting,  to kick things off
50 participating wineries throughout Dry Creek Valley
Your $150 ticket is good for the whole weekend and includes: wine map and glass, wine tasting, gourmet food, winery tours and live entertainment and non-stop fun.
Sold out? – You can can buy one day boutique events – typically in late FebruaryTo purchase your tickets or for more information on participating wineries, activities, or hotel reservations, please visit Passport to Dry Creek Valley's website
"While there are many wine festivals around, few offer the access to winemakers and intimate tastings that Passport to Dry Creek Valley in northern Sonoma County, California, boasts." – Jeanne O'Brien Coffey, Forbes 
"The great part is that unlike many other multi-winery tasting events, this one has a long-standing tradition. When buying your ticket, you also choose which winery you would like to pick your passport up at, which spreads the crowds over the entire valley." – Esther Tseng, E*Star LA
"After your lunch and/or dinner is complete, you have the whole passport-y weekend to look forward to…Add to all of this the exquisite April-ness of Dry Creek Valley, with everything in early bud and bloom, and you have a prelude not just to a wine-nice weekend but, also, to one of the best times of year in the area." – Alysia Gray Painter, NBC Bay Area