During the month of August, Edinburgh is taken over by two competing festivals: the prestigious Edinburgh International Festival and the more casually cool Edinburgh Festival Fringe. A month of culture, food and art, it's too good to not consider booking tickets to Scotland. The 2011 International festival will take place between August 12 through Sept. 5. and the Fringe Festival will run August 5 thorough the 29. with thousands of performers taking the stages throughout Edinburgh, there will be plenty of theatre, comedy, dance, musicals, operas, music, exhibitions and events to keep you busy. Check out a Tango Diva event review of a past festival and the author's personal recommendations below and you'll be set!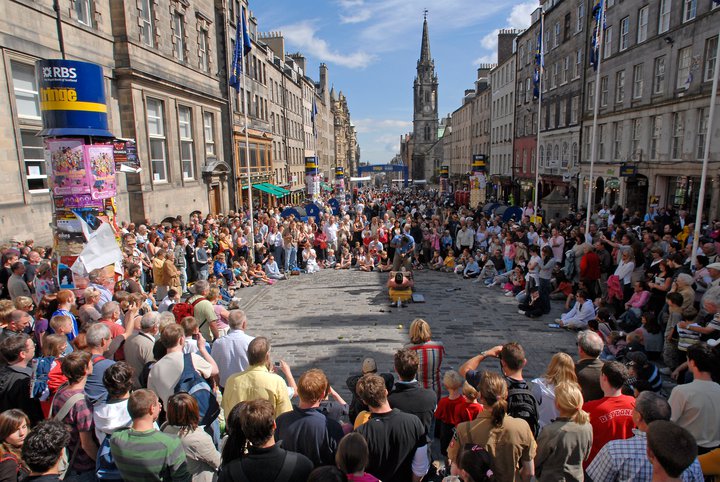 General Festival Information
The average Fringe ticket price is about $10, but there is a half-price hut that opens August 10 from 11 a.m. to 9 p.m. Tickets can also be booked online at edfringe.com.
Tickets to International events are considerably more expensive and are usually gone by April, but there is a "turn up & try" initiative: 50 discounted tickets go on sale one hour before each performance.
Choosing A Show
All participating festivals and main venues publish their own annual brochure. Festival information is also available online (see below). Reviews of shows are published daily in various local papers and can also be found at edfringe.com.
Other Festivals
Visit www.edinburgh-festivals.com for more information.
Edinburgh International Jazz & Blues Festival
Edinburgh Military Tattoo
Edinburgh Interactive Entertainment Festival
Edinburgh International Book Festival
Edinburgh International Film Festival
Edinburgh Mela
Getting There
Continental Airlines flies non-stop to Edinburgh from Newark. United and British Airways fly there with a change in London; Northwest goes via Amsterdam, Lufthansa via Frankfurt. Average economy roundtrip high-season ticket price is $1400.
Where To Stay
The Balmoral, 1 Princes St. 556-1111, Prices range from $620-$2650 (presidential suite).
Grassmarket Hotel, 94-96 Grassmarket. 220-2299, $150 (single), $190 (double), $240 family, including Scottish breakfast.
The Carlton Hotel, North Bridge. 472-3000, carlton@paramount-hotels.co.uk $210 (bed & breakfast), $240 (dinner, bed & breakfast).
Where To Eat
Calistoga, 93 Leonards St., 668-4207.
La Cuisine D' Odile, 13 Randolph Crescent. 225-5685. A tiny lunch-only cafe serving savory French food. $14 (without wine, but you can bring your own, $4 corkage fee).
Santini Ristorante & Santini Bis (less formal). Sheraton Hotel, 1 Festival Square. 229-9131. A 3-course Italian meal at the Ristorante starts at $60 (excluding drinks). A 2-course meal at the Bis (no drinks) starts at $26; 1 dish (with wine) is $22. Reservations (toll-free, world-wide): 800-325-35353.
What To Do
Fringe Sunday (check 2011 schedule for exact date & time) takes place on the Meadows, 10 minutes' walk from the Royal Mile and is a huge garden party, attracting crowds in excess of 200,000 and featuring free performances of Fringe shows, art displays, craft stands, music and children's activities.
Other Important Websites