Not according to vacation home rental company HomeAway. And not according to my family, who just gathered early this month for a family vacation on the Texas coast!
Family reunions seem a bit of an old-fashioned thing. They conjure nostalgic memories of extended cousins, aunts and uncles, grandparents, etc. gathering together for a few days. Barbecues, games like horseshoes or volleyball, reminiscing and telling stories. These all go with the territory for most of us who think about a family reunion.
Today's family is more spread out and far-flung than ever — which is exactly the reason why family travel holidays are more important than ever.
As the end of summer neared (the prime season for family travel), HomeAway took a look back at 2017 to see if family reunions are still relevant with travelers. It seems as if celebration vacations and international travel may be taking the place of traditional reunions.
HomeAway found that family reunions are still alive and well according to its 2017 summer travel research. In fact, more than half (57 percent) of HomeAway's travelers in the US, France, Germany and the UK said they have attended a reunion within the last two years; and most (60 percent) have travelled more than 100 miles to reach that reunion.
My family, as I mentioned, just took a vacation together. We have done so on and off throughout my life; first, in my childhood, with my grandparents and aunts and uncles, on Texas road trips to places like Galveston. Then, as an adult, my siblings and cousins and I would take our kids and gather for big family trips, usually on lakes such as Canyon Lake in Central Texas or the Ozarks in Arkansas. We would all be able to make this happen about once every 5 years. With the last one being 5 years ago – and only a handful of immediate family members at that – we decided we were due.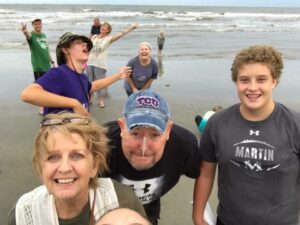 Everyone — my mom, sisters and their families, and my daughter — seemed pulled by Galveston. The Texas coastal city just south of Houston holds a lot of fond memories for all of us, from previous family time spent there. It's also a great place to choose on the Gulf Coast, in my opinion. It actually has a downtown — a really cool, historic, Victorian one at that — as well as all the "beach destination" type of attractions that make for a great family reunion spot: water parks, museums, an amusement park on a pier jetting over the ocean.
And miles of beaches. While Texas may not be known for gorgeous beaches in the way that California or Florida is in the US, the city of Galveston has recently done a lot of improvement work on its beaches, adding more than a million cubic yards of new sand.
So we chose Galveston, and began planning. My mom, daughter and I scrolled through the listings on HomeAway, filtering by the location, dates, and number of people that each home could accommodate. We ended up with a saved "favorites" list of a handful of properties, and ended up booking a home that met all our needs and was available for our dates of the first weekend in August — right before we needed to get kids ready to go back to school.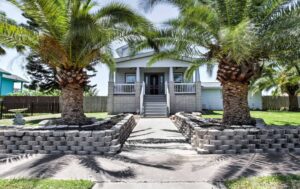 Our group spent 5 fun days at the home in Galveston, playing with the kids on the beach; riding the rides at the Historic Pleasure Pier; checking out the rainforest at Moody Gardens; and strolling around the pretty historic Strand District. Of course we ate out as well; but because we were in a real home with a kitchen, and not just hotel rooms, we were able to buy groceries and cook several meals at home. We even went to the seafood market at the wharf one day and bought fresh shrimp and crab to do a seafood boil at "home" one night, cooking steak on the grill in the yard to go with it.
Saving money by not always having to eat out is definitely a big advantage of renting a vacation house — but it's not the only cost savings. In general, the cost per person to rent many of the HomeAway properties ends up being a lot less than the cost of hotels. For example, our vacation house cost $1,662 total, with all taxes and fees included, for the 5 nights. At $332 per night with 11 adult family members, that came to just over $30 per person, per night. A pretty good deal, I would say.
We had such a good time on our family vacay, that we were left wondering why we only did this every 5 years — and are already planning to do another one next summer. In fact, now is the perfect time to begin planning family trips for either next summer, or the winter or spring school breaks.
"While data shows people are planning trips closer to their dates of travel, family reunions still typically need a 12-month runway to make sure everyone's schedules are clear," said Melanie Fish, HomeAway's family travel expert. "That means now is the time to start planning 2018."