With COVID taking over the world and cancelling plans (much to many an introvert's delight) my partner and I had to adapt for our one year wedding anniversary plans. Initially, we had been planning a two to three week adventure through Germany and Scotland visiting friends abroad, exploring botanical gardens and museums, and fitting in plenty of time for relaxation in the countryside. But as travel took a turn for the worst in March, we realized a plan B was in order. As our September Anniversary approached we were glad to see case numbers dropping as did some of the restrictions*.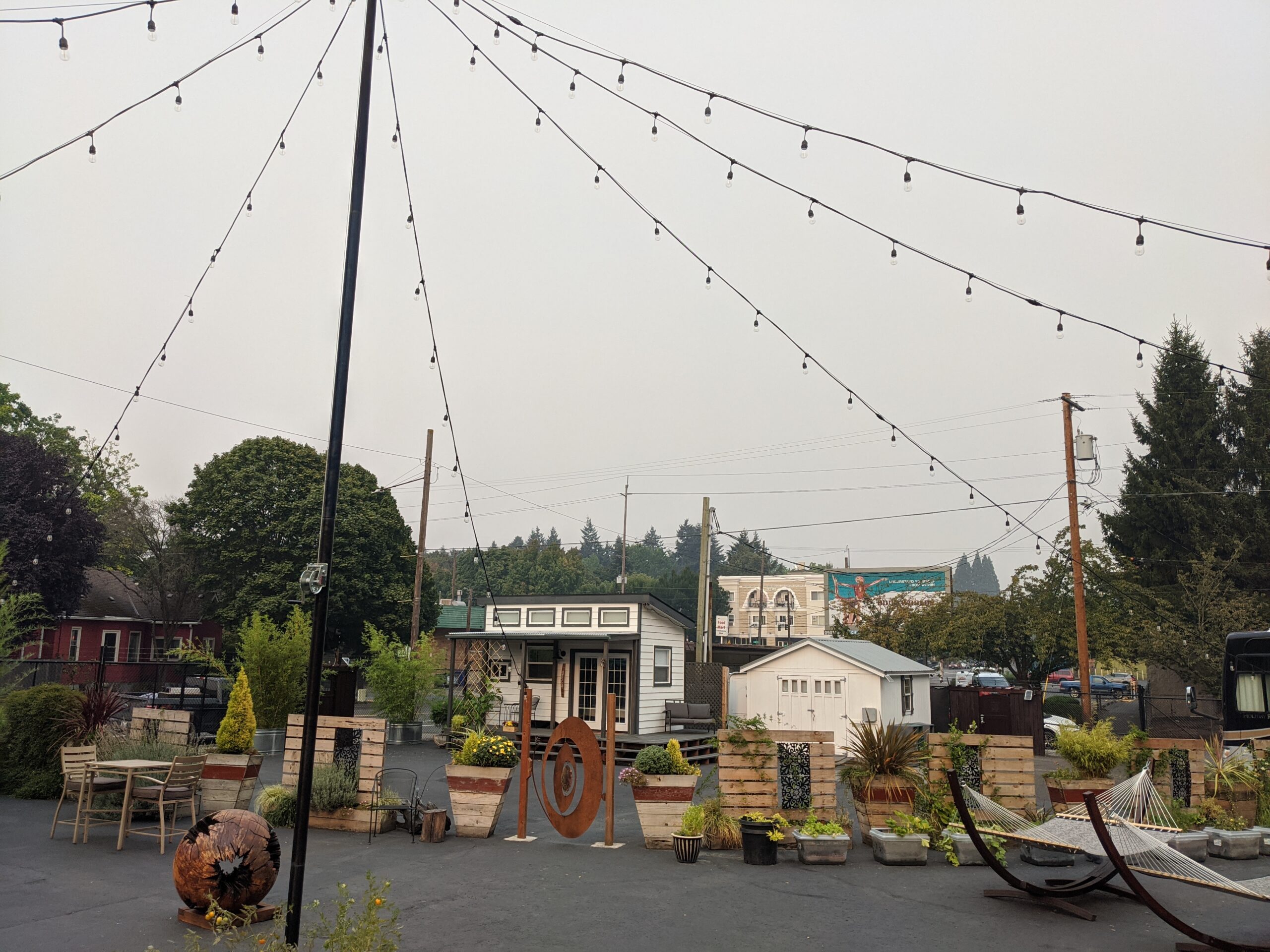 Thankfully, living in Portland offers many options for a great staycation. As restaurants and hotels began to open up we grew excited at the possibility that our one year anniversary would not be spent at home with the cat and our well used Netflix subscription. Portland offers many gorgeous and luxurious boutique hotels, but we wanted to try something unique and quintessentially Portland. I scoured the internet, remembering having walked by a tiny house "hotel" the past summer. Tiny Digs Hotel popped up in my search and after looking through the options online, I booked one immediately.
Tiny Digs Hotel offers unique and specifically decorated tiny houses, for $144 a night. We chose "The Cottage", a beautiful Victorian themed home filled with lace, china, and decorative candles and vases. Other options include The Arthur (a railroad and train themed house), The Merlot (a wine themed house, based around the thriving wineries of Oregon) to just name two other of the nine total available. The hotel is located on Glisan in Northeast Portland, just a handful of blocks from the popular Burnside street and a roughly five minute drive from Downtown.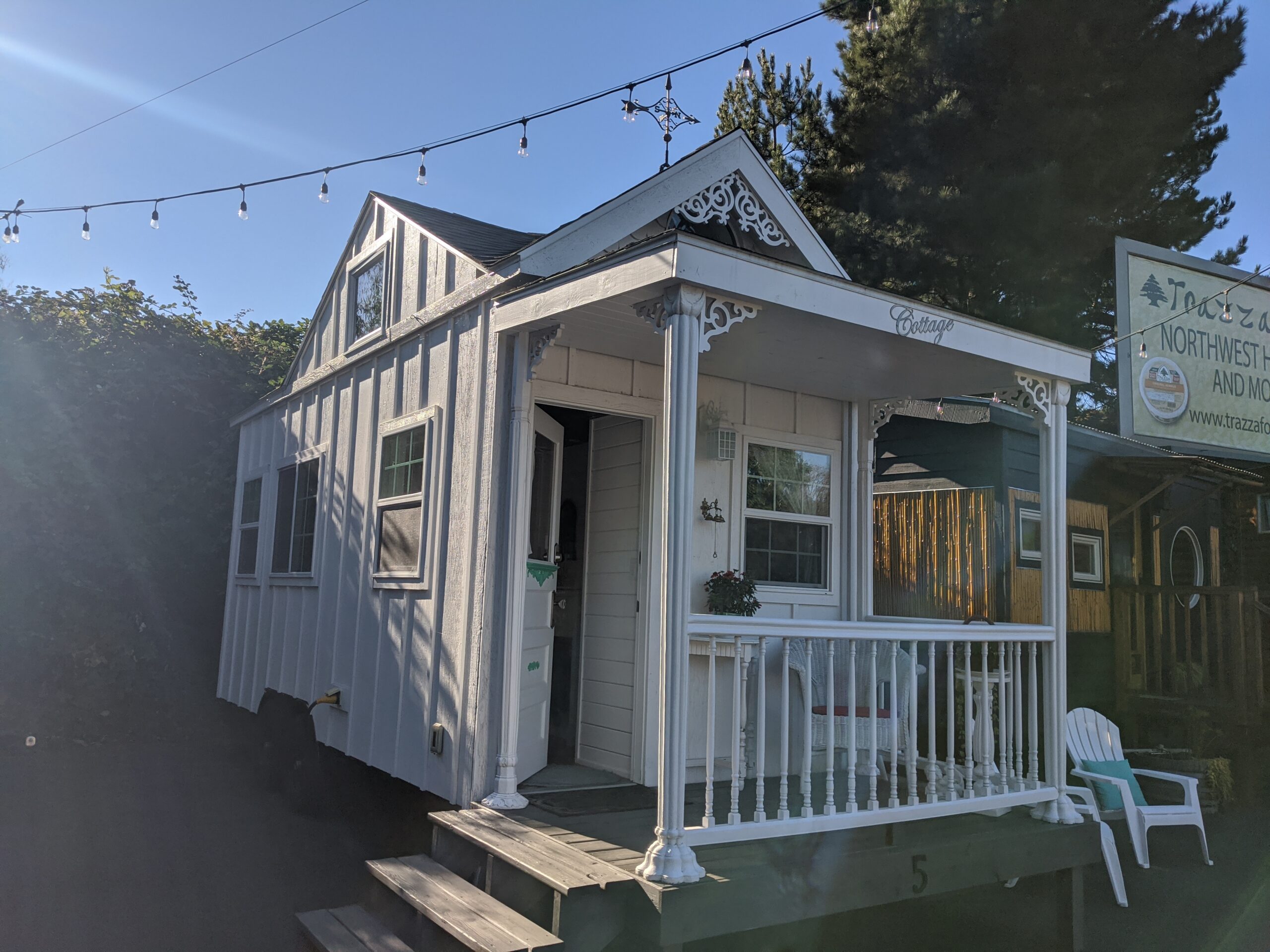 We rented the house for two nights and laughed at the fact that we had packed two bags for our eight minute drive from our apartment to the tiny house. Walking in was like stepping into a romantic farmhouse. The home was white, with ample sunlight filling the room. Vases ( did the vases hang on the walls?) and paintings hung on the wall, and a cozy couch sat across from a cheery electric fireplace. A compact but still elegant staircase led up to the loft bedroom complete with crystal wall sconces and a chandelier hanging from the center of the room. The home was equipped with a kitchenette, an antique wooden china case with rustic bucket style sink. ( I am confused i the bucket sink in the china cabinet?) We loved a large stained glass window, one of many. By the end of the weekend we found the space to be a bit tight for full time living, but perfect for a romantic weekend.
Our first night we walked down the street and stopped at a cute Italian restaurant with plenty of outdoor seating, La Buca. We sat down and were served by a very friendly waitress. We enjoyed a few tasty cocktails, and some great pasta (the pancetta e funghi is a must try). We finished our meal with some rich tiramisu and took the long way home, admiring the elegant and colorufl craftsman homes of the neighborhood.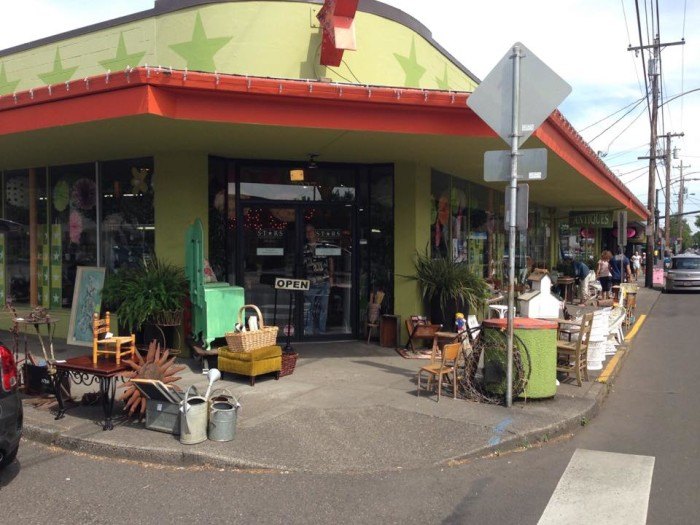 In keeping with the theme of our antique filled accommodations we spent the next day in the charming Sellwood/Moreland area antiquing. Sellwood/Moreland is known for its Antique Alley, a stretch of several blocks with antique and vintage stores sandwiched between cafes and outdoor dining restaurants.. if you are a fan of browsing and collecting the Stars and Splendid antique store is not to be missed. Split into two buildings each face across the street from each other in a particularly charming part of Portland, that many tourists don't venture into. After several hours of trying to convince ourselves not to buy the beautiful antique dish sets and figurines, we realized we were in desperate need of lunch. We stopped at a restaurant a couple blocks west, this ended up being the only downside of the weekend. The food was filling, but just ok, and the service wasn't much better. We were grateful at least for the option of outdoor seating.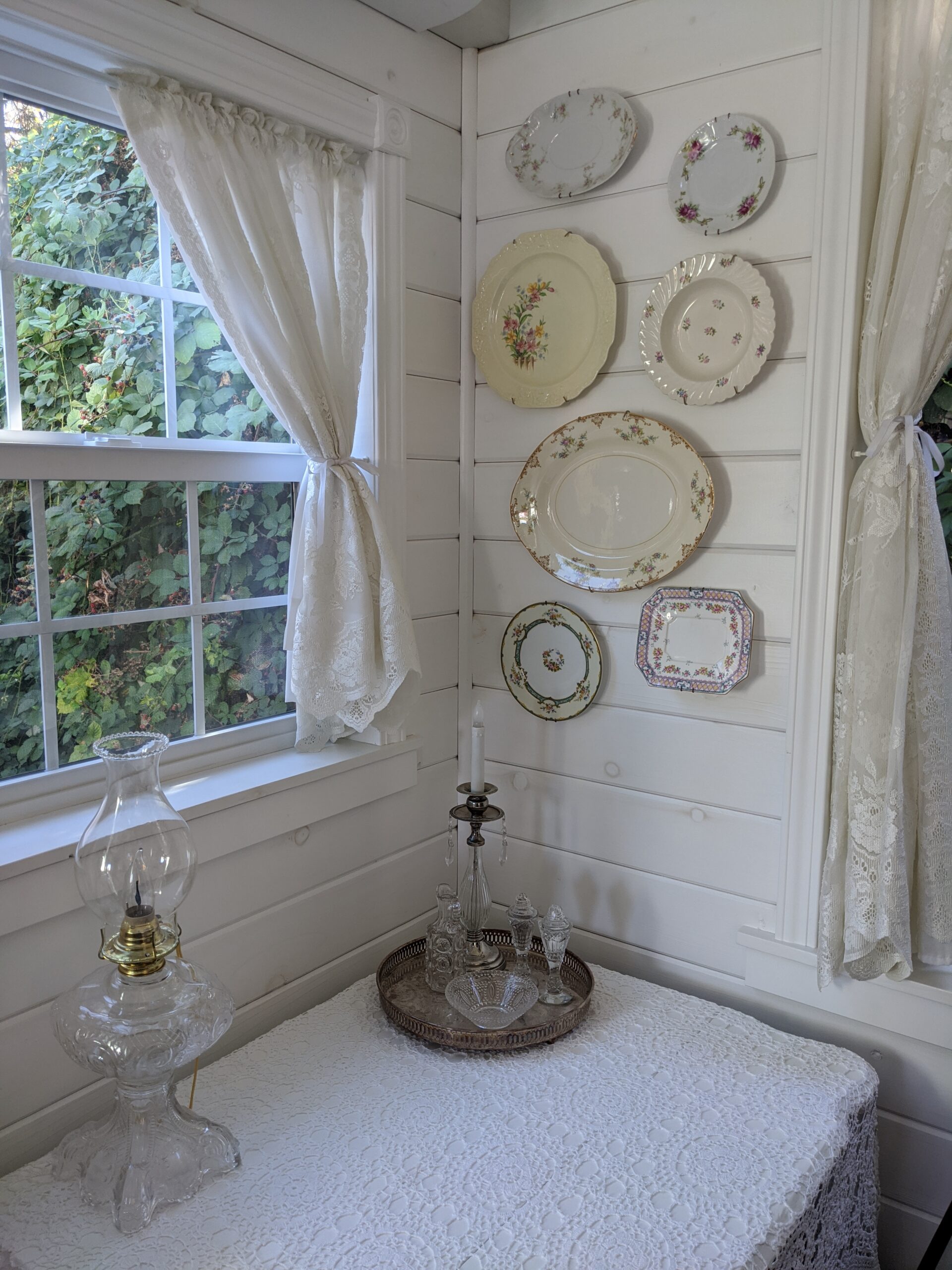 After antiquing and a less than satisfactory meal in the hot sun we were glad to be back in the air conditioned tiny house. My husband took a nap, and I relaxed on the couch and read. When it came time for dinner we cleaned up and walked two very short blocks to the Stammtisch. We planned for dinner at Stammtisch, a German restaurant, in order to make up for not being able to actually be in Germany. I was grateful it was so close as I had chosen high heeled t-strap clogs to go with my blue and white folksy floral dress.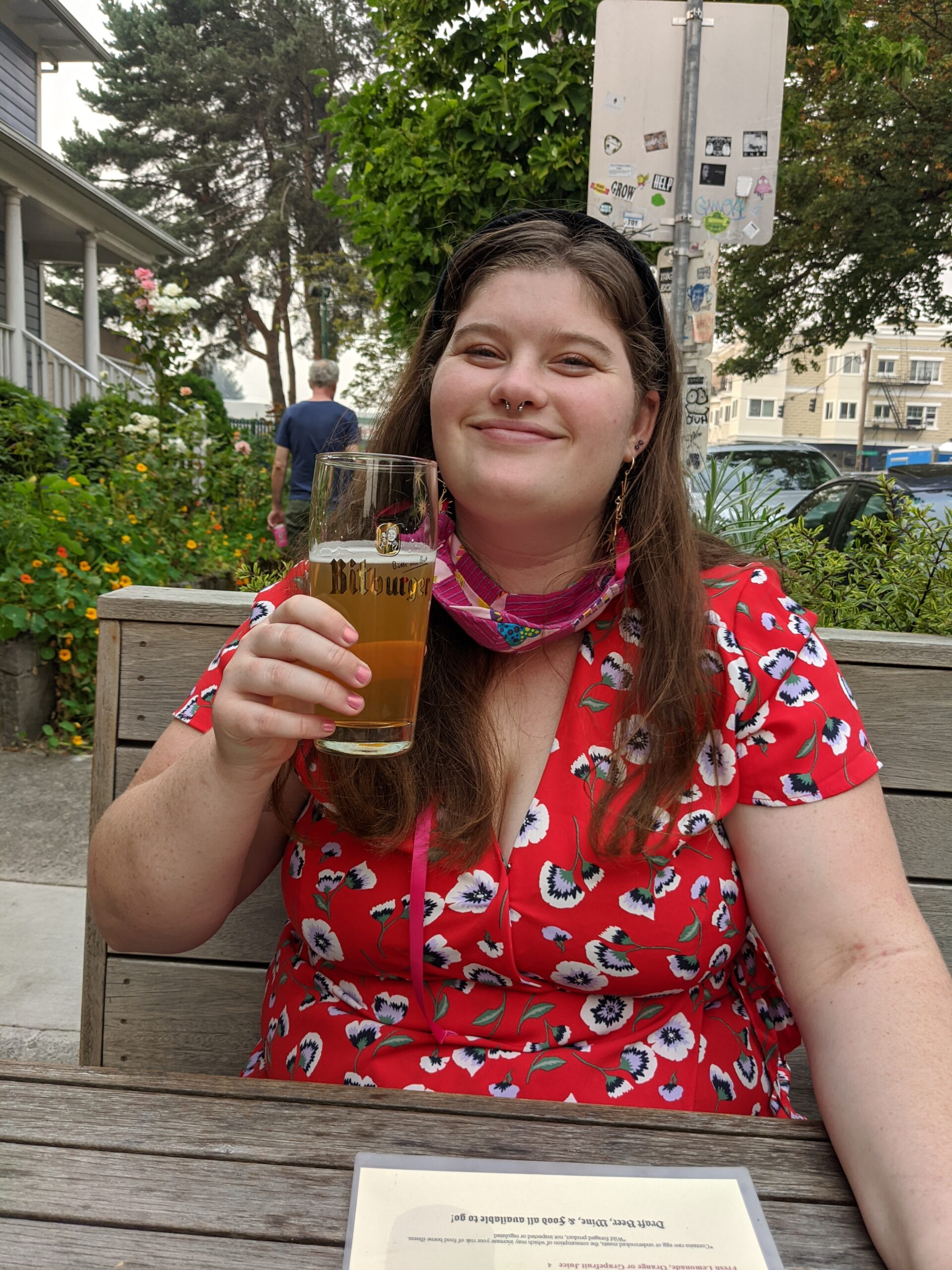 We sat outside and a friendly waitress presented the menus. The menu was overwhelming in the best sense, our appetite was back and it was hard not to justify ordering everything "because it's our anniversary".The menu was organized into small, medium, and large plate sections. From the small, we ordered the Bretzel and Kartoffelpuffer. The Bretzel was warm and the dipping sauces that accompanied it were new to us (who knew dipping bread in fat could be so good? The Germans, that's who). And the applesauce paired with the potato pancakes of the Kartoffelpuffer was sweet cinnamon goodness. We tried several beers during the night, and all were impressive. For dinner, I ordered the Maultaschen. It was a savory pasta dish with leeks, green beans, and mushrooms in a creamy white wine sauce. My husband opted for the priciest item, the Schweinshaxen. When the plate arrived we found that he was definitely getting our money's worth. It was a large plate of warm sauerkraut, spatzel, and slow roasted pork shoulder. If you are looking to split something or if you have a huge appetite, this is the dish to get.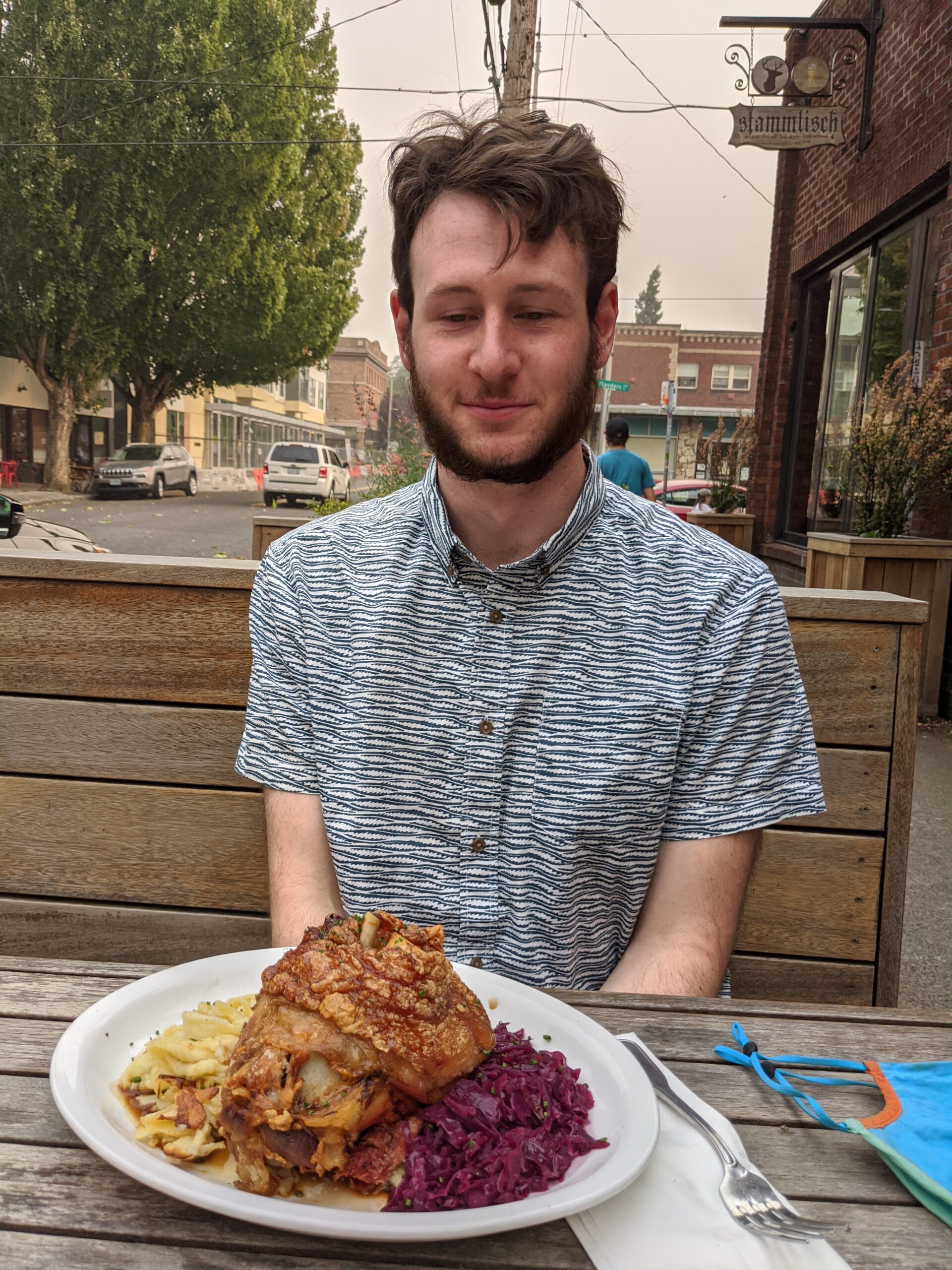 After our indulgent meal we walked around the neighborhood, reflecting on memories from our Northern California wedding and pointing out the cute houses in the area. Back at the tiny house we opened a bottle of wine and each took a bite of the top tier of our wedding cake we had saved. It was nearly as bad as I would have expected so I still only took the one bite. My husband seemed to have found his appetite again as he devoured the whole slice. We enjoyed a quiet night together, and in spite of the warm weather, we cranked the AC so that we could turn on the electric fireplace to mimic a cozy winter night.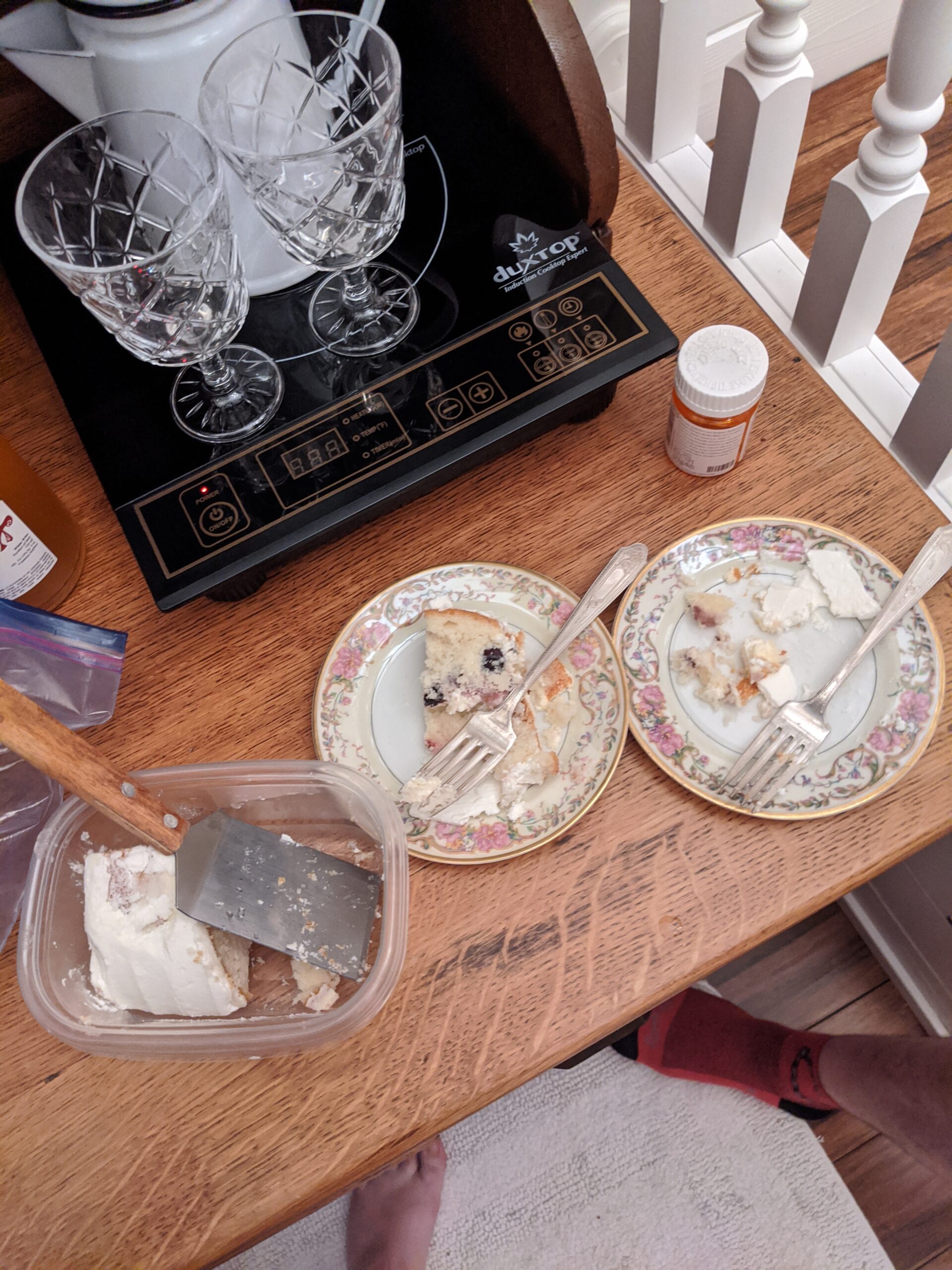 Even with closures and limited options, we were able to enjoy amazing food, fun shopping, and good quality time together. I urge you to take a look at what your area has to offer. Maybe there is a cute bed and breakfast nearby, or a fancy hotel where you can splurge on a night of luxury. Or even just a camping trip to celebrate the milestones that are still passing. This year is one where we need to savor the good that comes our way, and create ways to connect with those we love, whether it's a night at home with some good wine, or a virtual game night with friends.
*Please note: As case numbers have begun to rise again across the country, please remember to always wear your mask when around others, and to limit your contact.