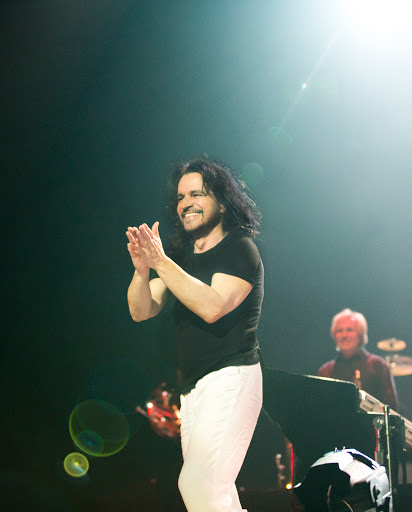 Legendary Composer and Performer, Yanni releases his new album "Sensuous Chill" this month, just in time for the kick off his 2016 North American Tour.
Yanni's music has inspired and entertained audiences around the world for over two decades. But his appeal reaches beyond his unique musical compositions. Yanni's over-the top theatrics combined with his hand-picked company of talented performers make each show a truly memorable experience.
Yanni treasures the company he keeps. His orchestra family, which he fondly describes as a "United Nations", is dear to his heart and his mission; his resounding message is all about "music bringing the world together". Each artist acts as an ambassador, sharing their backgrounds and stories with faithful fans at every tour stop.
It has been nearly 25 years since I last saw Yanni in concert. But that Columbia Gorge performance is still etched in my mind. It was surreal as the sun set in the scenic river gorge; the audience was entranced by a captivating spectacle of artistry and music. The weather was perfect and the sky was a painting; swirls of color danced against the sky with every note.
For me and many others, a YANNI concert can evoke emotions on par with a religious experience. Audiences are touched by the grand presentation and moved by the symphonic style melodies.
Yanni has been called a global music phenomenon; he is celebrated as a rare artist whose music transcends borders and generations. With more than 40 platinum and gold albums and international album sales totaling over $25 million, Yanni's passion has been recognized and rewarded.
Still not impressed? Did you know Yanni is also the proud papa of a precious panda named"Santorini".
Yanni was honored by the people of China with a very special gift in 2011 with the adoption of a two-month panda. Yanni is the first artist to ever be honored in this way. The Chengdu Panda Research Base offered this gift to Yanni because they understood the synergy; they felt the essence of Yanni's music was harmonious with the nature of the panda.
Yanni now actively collaborates with World Wildlife Fund to elevate awareness and increase support for giant panda protection.
The YANNI 2016 Tour graces Jacksonville, Florida on Wednesday,February 3rd.
The Sunshine State loves Yanni; his shows have been a sell out in nearly every host city to date.
The clock is ticking, so don't delay.
A magical journey with the Master awaits!
Location: Times-Union Center's Moran Theater; Jacksonville, Florida
For more information and tickets, visit the Artist Series Jax Website.
Or, call: 904-442-BWAY (2929)
Other select city tour dates:
Nashville, TN
Andrew Jackson Hall; Feb 10
Orlando, FL
Phillips Center in the Walt Disney Theater; Feb 13
Atlanta, GA
Fox Theatre; Feb 20
Charlotte, NC
Belk Theater at Blumenthal Performing Arts Center; Feb 21
Denver, CO
Bellco Theatre; March 8
San Diego, CA
San Diego Civic Center; March 12
Las Vegas, NV
The Smith Center; March 21
San Antonio, TX
Majestic Theatre; March 24
New Orleans, LA
Saenger Theatre; March 26
Grand Rapids, MI
DeVos Performance Hall; July 28
For the full tour schedule, visit the official Yanni website.
Photos Courtesy of Krystalán